AAC devices open doors for speech for those with disabilities
The shortage of speech-language pathologists in the area has left AACs sitting on shelves waiting for children.
Updated: Oct. 19, 2023 at 4:45 PM EDT
CHARLOTTE, N.C. (WBTV) - New technology helping those with speech disabilities communicate becomes more cost accessible but Charlotte's lack of speech-language pathology graduate programs makes finding therapists to teach families how to use the technology an uphill battle.
"You're giving these kids multimodal options for speaking. Some use sign language, some use pictures, some use words, and some use the AAC device," Christy Allen, GiGi's Playhouse Charlotte's co-founder and executive director, said.
GiGi's Playhouse Charlotte is a Down syndrome achievement center that offers a litany of programs for families of children with Down syndrome.
"We have a stage, we have a kitchen, we have a learning lab for literacy and math, one-on-one tutoring, we have a sensory room, we have an art room, we make use of every nook and cranny of this space. And the best thing about GiGi's Playhouse is it's 100% free to our families," Allan explained.
Allen learned her son would live with Down syndrome and autism before he was born.
"The only way that I could take that news was to just cry. I was devastated. I was scared. I felt alone and isolated and I didn't know what to do," Allen recalled. "I called everyone I knew and my family also didn't have any experience with Down syndrome. What I needed – what I wanted was a place. I wanted a physical place where I could go and meet other families and learn. And instead, what I had to do was roll up my sleeves and get out there and figure it out for myself."
A few years later, she opened GiGi's Playhouse in Charlotte. Since then she said she has learned the needs her son has and tried to help implement solutions into GiGi's Playhouse.
"We started inquiring about what we had been hearing about these AAC tablets. And his speech-language pathologist at school was like, 'Yeah, we can certainly look into that.' And she started us on a program called TouchChat and it's an application that you can buy on the app store or Android. And it is - the power of this tablet is incredible. You can customize it according to your child's world, what their interests are, the core vocabulary that you really want to help them learn," Allen explained.
In a matter of months, she saw a difference in her 8-year-old son.
"The big thing for me was not only the fact that Charlie was able to communicate his needs and be able to express his preferences and tell me when he was feeling frustrated and why it was the fact that it was teaching him literacy," Allen said.
Allen added that on top of learning to communicate more universally, she knew how critical it was for her son to learn to read.
"He understands how words are put together," Allen said. "He can answer questions about what he's read and the books that he's seen. So it just really, really reinforced the importance of this program. Outside of just being verbal, there is such a delay in literacy skills for our loved ones with Down syndrome. And so even for our verbal participants, I really think that the AAC devices could be pivotal in helping bridge that early gap and literacy."
Her son's therapist said she has witnessed progress with other clients as well.
"It's really expanded their communication abilities. I see a lot less frustration. I see a lot more confidence in their ability to communicate and just like a realization of how powerful it can be," Ashley Hancock, an ACT Therapy speech-language pathologist, said. "The response that they get from the communication from their parents, from their friends and being able to engage not only socially but be able to communicate their basic needs can go really far."
Allen said Hancock's class at GiGi's Playhouse has been instrumental in helping three students learn to use an AAC. However, a grant through TELUS allowed GiGi's to acquire 10 AAC devices in 2023.
As of mid-October, more than half of the devices were still in their boxes. That is because Allen said she has not been able to find another SLP to work for them and each SLP can only take on three students at a time.
"Speech-language pathologists, we don't have a graduate program here in Charlotte. So we are, you know, always trying to incentivize therapists to come move to Charlotte from other areas and there's just a demand on that service," Allen explained.
The University of North Carolina in Charlotte and Winthrop do not have a program and told WBTV there are no plans to add a graduate SLP program.
Central Piedmont Community College said it has a SLP assistant program but that is not an in-depth enough certification to work at GiGi's Playhouse without a SLP present.
Allen said the more people that use AAC devices, the more widely accepted the form of communication will become, giving more access to those with disabilities to live a robust life.
"I think some are gonna see Charlie walking around with an iPad and they'll be like, 'Oh, he's just a digital kid and mom is just letting that babysit him.' When in actuality he's got his AAC device on him so that he can communicate," Allen said.
SLPs interested in learning more about the opportunities at GiGi's Playhouse can reach out to the non-profit at Charlotte@gigisplayhouse.org or 980-201-9940.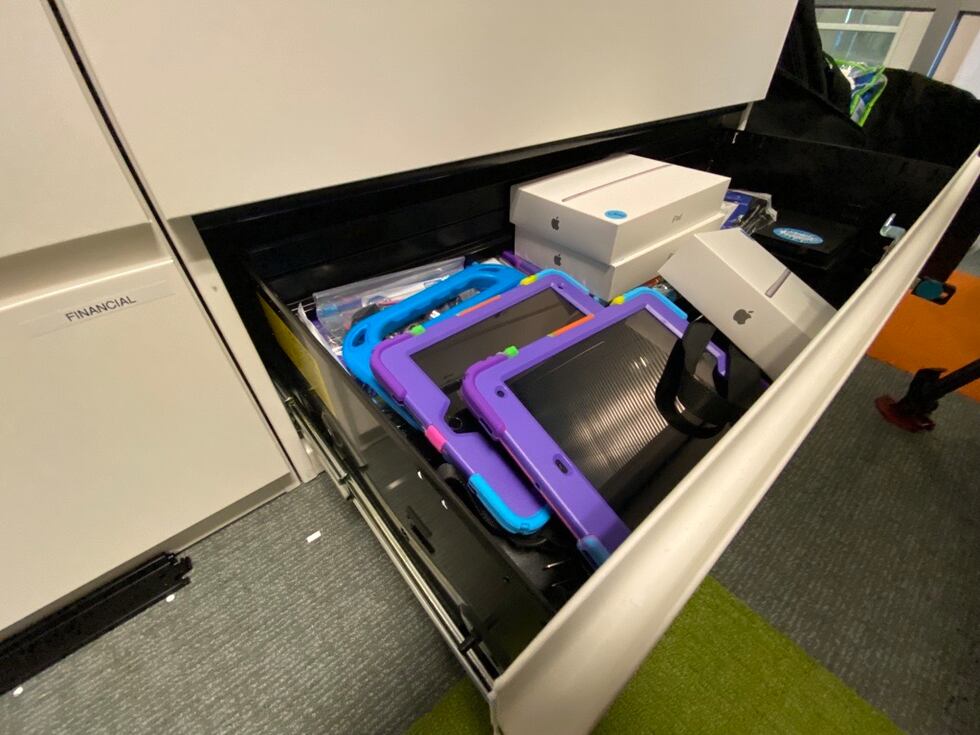 Copyright 2023 WBTV. All rights reserved.