#MollysKids: Gus Seabright, Williams Syndrome
Though Gus Seabright lives in Iredell County, he is in Stanford, California, recovering from open heart surgery.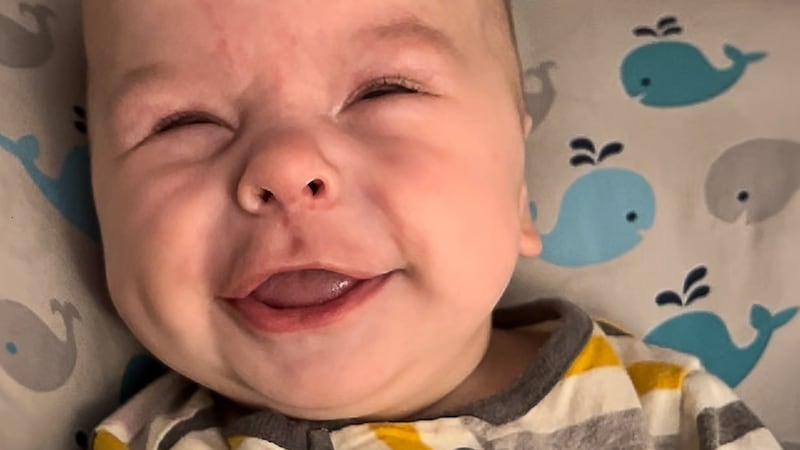 Published: Oct. 17, 2023 at 9:20 PM EDT
CHARLOTTE, N.C. (WBTV) - This Mooresville boy turns 6-months old, tomorrow. Though Gus Seabright lives in Iredell County, he is in Stanford, California, recovering from open heart surgery.
Tomorrow he gets discharged and will be home this weekend.
Read on, his mom asks. She hopes you share her son's story with others.
"Right after he was born and right before he was about to be discharged, a heart murmur was heard in the hospital," said Nikki Seabright. "We got a referral to a cardiologist and at the age of 4-weeks-old, learned he had multiple congenital heart defects. The most serious was called supravalvular aortic stenosis (SVAS for short). This means his aorta narrowed just above the heart valve. A genetic syndrome named Williams Syndrome was also suspected, so we also got a referral to a geneticist at Levine Children's. That geneticist later confirm the WS diagnosis when Gus was only 8-weeks."
If you've never heard of Williams Syndrome, you're not alone. It is rare. However, a handful of our amazing #MollysKids live with this disorder that affects 1 in 10,000 people.
Williams Syndrome is a randomly occurring, micro-deletion on chromosome 7 and occurs at conception. Sadly, it comes with a variety of health challenges and can impact development. While each person diagnosed experiences unique symptoms, almost all kids diagnosed have an incredibly friendly and outgoing personality, an infectious smile, and a deep love for music.
One of the health challenges most commonly associated with WS, is the child in question also having heart issues. Gus was experiencing severe types of them. His team determined he needed open-heart surgery to patch the SVAS, and fast."As you can imagine, it was an instantly emotional and challenging time for our family," Nikki said. "We grieved the diagnosis, while doing countless hours of research. We connected with some amazing families in the WS community, who helped us find some of the top WS specialists in the country to perform Gus's surgery. We didn't know—and still don't know—what the future holds for Gus, but we do know we were (and are!) looking for positivity during this difficult journey."
In September, Gus underwent a 12-hour open heart surgery at Stanford. The surgeon told Nikki and her husband Charlie they were able to successfully patch the supravalvar aortic stenosis and both of Gus's coronary arteries. They also said that anesthesia can be especially dangerous for kids with Williams Syndrome, and Gus handled the sedation well. But one of the reasons the surgery took so long is as they began to take him off of bypass, his blood pressures began to dip. It got dangerously low. In order to keep him safe and allow his body time to heal, Gus was put on an ECMO to help pump his heart and lungs. Luckily, he was able to get off ECMO two days later.
However...
"After coming off of ECMO, our relief was short-lived," Nikki said. "Gus was then diagnosed with pneumonia. We spent two weeks battling the worst of the pneumonia before he was taken off of the ventilator and able to breathe on his own. On that day, in early October, we were able to hold him and see his smile for the first time in weeks."
She said it's all surreal.
"I cannot even begin to describe the feeling I had when walking in and seeing him after surgery," she said. "I wish I could do these surgeries for him and take all his pain away."She also said her thanks for the community goes deep."When we came out here, we were told to prepare ourselves for a rough road ahead," she said. "Gus was initially only given a 30% chance that he would make it through this surgery. As a new mom, nothing shattered my world more than being told that. But, he is much stronger than I could have ever imagined. Our little Warrior."
Nikki and Charlie say they are both in awe every day at their son. They're still in the midst of it, but, "have learned to celebrate the wins when they come."
The most recent update late this afternoon is that discharge is still planned for tomorrow and they'll be back with friends and neighbors in Mooresville by Saturday.
Welcome to #MollysKids, Gus. Your eyes are mesmerizing. Safe travels back across the country, Nikki, and please keep us updated.
Copyright 2023 WBTV. All rights reserved.