Typical Fall weather before late-week cold front
Rain chances return to round out the work week
Published: Oct. 17, 2023 at 5:19 AM EDT
|
Updated: Oct. 17, 2023 at 10:48 PM EDT
CHARLOTTE, N.C. (WBTV) - Our dress-in-layers weather continues through Thursday!
Midweek: Mix of sun and clouds, chilly mornings
Friday: Next cold front, clouds and showers likely
Weekend: Sunshine returns, cool temps
Temperatures will start off in the 40s for most locations Wednesday morning before quickly lifting back above the 70-degree mark for the afternoon hours. Anticipate a mix of sun and clouds and dry conditions.
Thursday will also feature chilly morning temperatures and highs in the low 70s, but clouds will increase from the west over the course of the day.
By Friday, our next cold front will be working overhead. Rain looks likely at this time and a few storms possible. Stay tuned for timing updates!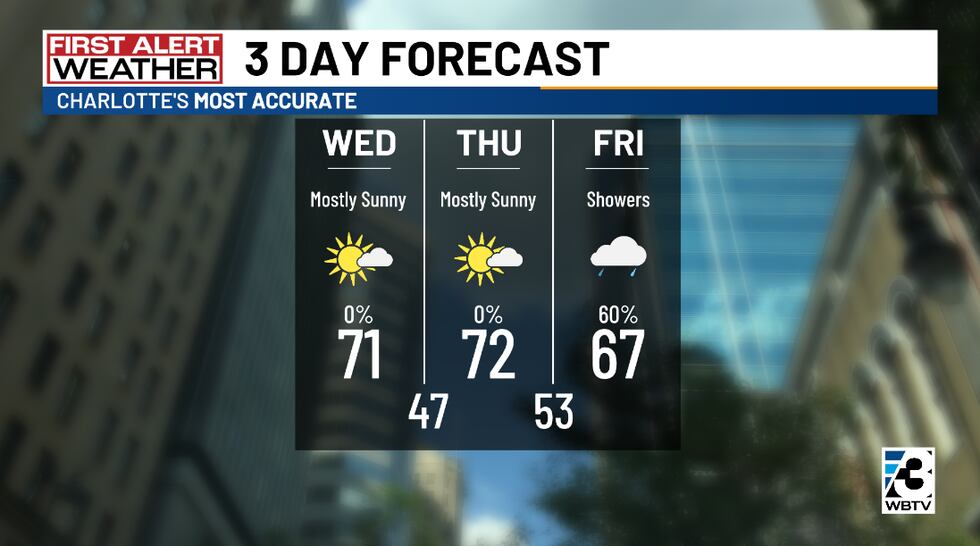 Fortunately, a drying trend is forecast to kick in early on Saturday with cool highs in the upper 60s Friday and Saturday before inching up closer to 70 degrees Sunday and Monday.
Download the free WBTV Weather app on your mobile device, to receive weather alerts and get your latest WBTV weather forecast on the go. You can also get the latest weather forecast on Roku and Amazon Fire's WBTV app.
Have a great Wednesday!
- Meteorologist Rachel Coulter
Copyright 2023 WBTV. All rights reserved.