Into The Light marks 5th year, Rowan United Way announces support group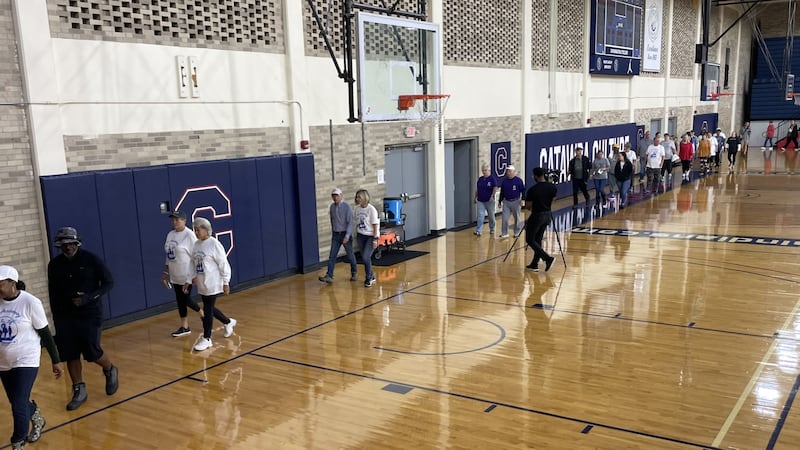 Published: Oct. 14, 2023 at 10:20 AM EDT
|
Updated: Oct. 14, 2023 at 10:26 AM EDT
ROWAN COUNTY, N.C. (WBTV) - Steady rain and a power outage at the football stadium on the campus of Catawba College did not stop the Rowan County United Way from hosting the annual Into The Light event to illuminate issues of mental health and suicide.
After some quick readjusting, Into The Light was held inside the Goodman gymnasium on Saturday morning. More than 100 people preregistered for the event, others registered as they arrived.
The focus this and every year is to bring difficult issues "into the light." Many who attend have lost someone in their lives due to suicide.
"United Way is one of the only organizations working in this difficult space," said Jenny Lee of Rowan United Way.
Lee pointed out that the United Way is now working to create support group for those who have experienced loss due to suicide.
"United Way is taking our efforts one step further to support individuals that have lost a loved one due to suicide," Lee said. "A portion of the proceeds will go towards starting a support group, led by a trained facilitator to give folks a safe place to work through their feelings, confusion, and pain. The only support group we currently have is for veterans."
Speakers recounted stories of their loss and encouraged those in the audience to take seriously the issue of mental health and to be aware of the resources that do exist to help those who are suffering from mental illness and those who may be considering suicide.
All proceeds from Into The Light directly support local, accessible mental health treatment programs and services.
If you're struggling, you are not alone and free, 24/7, confidential help is available.
Call 211 or visit 211.org for non-emergency mental health resources and support.
Call 988 or visit 988lifeline.org for suicide and crisis support.
Copyright 2023 WBTV. All rights reserved.