Get ready for a wet start to the weekend
We'll be cooling down by Sunday.
Published: Oct. 13, 2023 at 5:34 AM EDT
|
Updated: Oct. 13, 2023 at 4:52 PM EDT
CHARLOTTE, N.C. (WBTV) - A chance for rain will return on Friday evening, stretching into Saturday as the weekend gets off to a potentially wet start.
Saturday: Periods of rain, mild
Sunday: Mostly sunny, cooler
Monday: Increasing clouds, sprinkles north of I-85.
We are wrapping up this sunshine-filled Friday warm and dry, but we do have chances for rain on the way. This evening through tonight, expect increasing clouds with chances for isolated to widely scattered showers and lows in the 50s.
Tomorrow, an area of low pressure passing to our south will bring some rain into our area during the first half of the day. By the afternoon, a few more isolated showers will be possible otherwise expect mostly cloudy skies with highs in the lower 70s.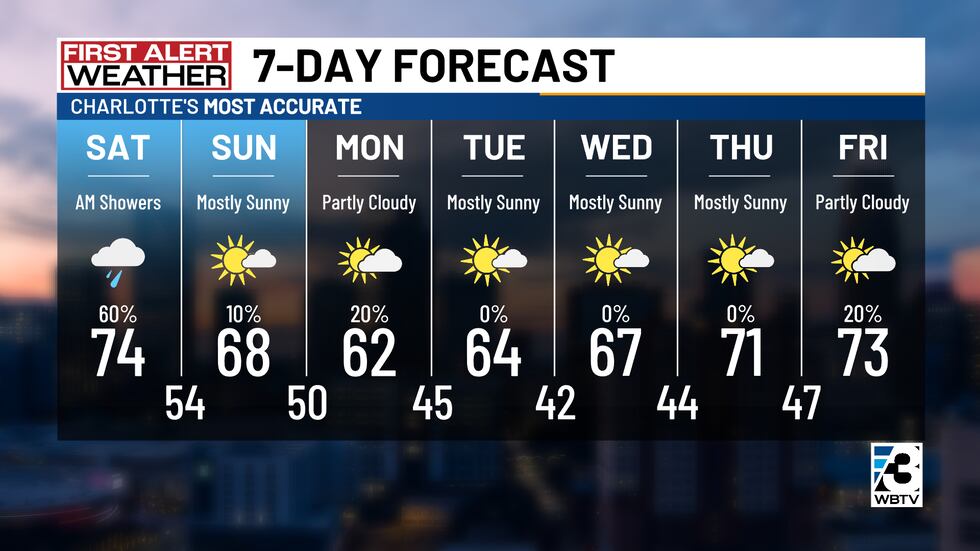 After the rain, a cold front will sweep through Charlotte making for a chilly end to the weekend. Sunday will be mostly sunny, breezy, and cooler with highs in the upper 60s.
On Monday and Tuesday expect a mix of sunshine and clouds with highs in the lower 60s. Wednesday and Thursday look mostly sunny and dry with highs in the upper 60s.
Next Friday also looks dry and pleasant but the chances for rain look to return by next Saturday.
Download the free WBTV Weather app on your mobile device, to receive weather alerts and get your latest WBTV weather forecast on the go. You can also get the latest weather forecast on Roku and Amazon Fire's WBTV app.
Have a wonderful weekend!
- Meteorologist Elissia Wilson
Copyright 2023 WBTV. All rights reserved.