Another chance for rain late Friday, early Saturday
Cooler temperatures return for the second half of the 7-day forecast!
Published: Oct. 12, 2023 at 5:13 AM EDT
|
Updated: Oct. 12, 2023 at 10:27 PM EDT
CHARLOTTE, N.C. (WBTV) - Rain chances pick back up for the first part of the weekend.
Friday: AM fog, midday sunshine, few showers late
Saturday: Periods of rain to start, seasonable
Sunday: Partly cloudy, cooler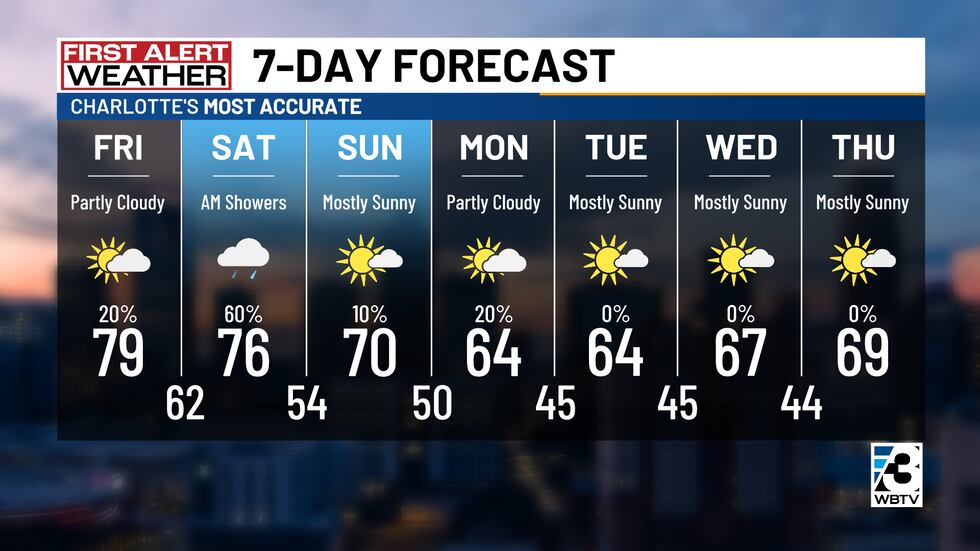 Friday will start off with patchy fog and morning low temperatures in the low 50s. By midday, sunshine will prevail and will help warm temperatures into the mid to upper 70s. With a cold front approaching from the west, we'll see an increase in cloud cover by the evening hours, with spotty shower chances climbing into the late evening.
Rain chances will climb overnight into the first half of our Saturday as the aforementioned cold front crosses the Carolinas. Clouds will be slow to clear (not great news for the Partial Solar Eclipse), but rain chances diminish by the second half of the day. We'll notice breezy and cooler conditions into the second half of the weekend.
High temperatures will reach the mid 70s on Saturday and just around 70-degrees by Sunday afternoon. Although a stray shower is possible on Sunday, the better chance for rain exists in our higher elevations.
Next week is looking cool! Morning lows will bottom out in the 40s on a daily basis and afternoon highs will reach the low to mid 60s.
Download the free WBTV Weather app on your mobile device, to receive weather alerts and get your latest WBTV weather forecast on the go. You can also get the latest weather forecast on Roku and Amazon Fire's WBTV app.
Have a great Friday!
Meteorologist Rachel Coulter
Copyright 2023 WBTV. All rights reserved.