Daylight hours growing shorter and shorter as the Winter Solstice approaches
More than half an hour of daylight has been lost since the official start of fall.
Published: Oct. 10, 2023 at 9:20 AM EDT
CHARLOTTE, N.C. (WBTV) - While we've enjoyed some fantastic fall weather around the Carolinas over the past few weeks, you've probably noticed the days are getting shorter.
On Sept. 23, the first official day of autumn, Charlotte enjoyed 12 hours and 6 minutes of daylight. Today, that number has been whittled down by more than a half hour.
As it does every fall, that trend will continue. Losing about two minutes each day, by Halloween, the sun will rise at 7:43 a.m. and set at 6:42 p.m. That's a loss of more than a full hour from the start of the month.
Looking ahead, while not everyone is a fan of switching the clocks, unless Congress was to change the policy, we'll fall back one hour Sunday, Nov. 5. Those who enjoy an earlier sunrise will rejoice.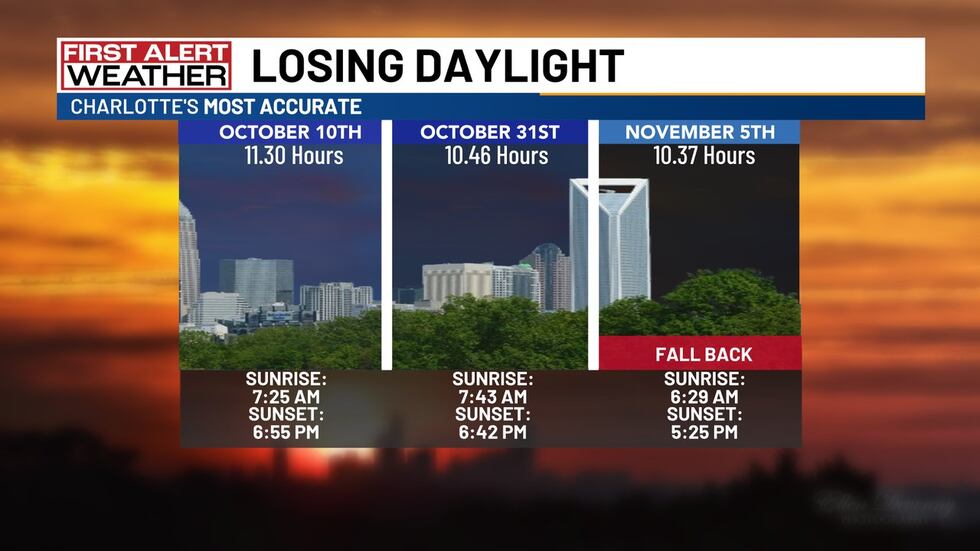 That morning, the sun will come up just before 6:30 a.m. But there's a cost. We'll be dark that evening, long before 6 o'clock, as the sun will set at 5:25 p.m., allowing for just 10 hours and 37 minutes of available daylight. And it gets worse.
By the time we get around to the Winter Solstice on Dec. 23, the sun won't rise until nearly 7:30 a.m. and will set at 5:15 p.m., allowing for just nine hours and 47 minutes of possible sunlight. It's the shortest day of the year, just before Christmas.
Christmas is about partially about gifts, though, and it does get better!
By Valentine's Day, the sun will set after 6 p.m. and we'll have gained more than a full hour of available daylight from the start of winter.
So, if you're not a fan of the shorter days, unfortunately, it will get worse before it gets better. But, it will get better. And as the song goes, the sun WILL come up tomorrow! Just a little bit deeper into the morning.
- Chief Meteorologist Al Conklin
Copyright 2023 WBTV. All rights reserved.