Charlotte teens buying 'ghost guns' online
A regulation that would make firearm kits easier to track is blocked by Federal Courts
Published: Oct. 5, 2023 at 5:39 PM EDT
CHARLOTTE, N.C. (WBTV) - Privately assembled firearms have been a part of American gun culture for decades, allowing home gunsmiths to use DIY kits to build their own weapons.
But since the 1990s — and with the advent of online sales and, more recently, 3D printers — they've proliferated. And while gun enthusiasts have long bought and used them for legitimate purposes, local police say they've also been easily accessible to people who shouldn't have guns, including teenagers.
Police say last year 18-year-old Jeremiah Walker Jr. bought a firearm kit online and built the gun in his garage. Charlotte-Mecklenburg Police confiscated the weapon when they arrested Walker for involvement in a shooting that left another teen paralyzed.
"I just wasn't prepared mentally to think that an 18-year-old could build a gun in his home," said CMPD Capt. Bret Balamucki, who investigated the case. "Although it's legal for him to do so, I didn't think that someone so young would manufacture their own firearm."
The 9mm firearm Walker assembled from a kit was sold by Polymer80, one of the country's largest manufacturers of gun kits.
Because the guns are sold in parts in kits, they don't meet the legal definition of a firearm and therefore aren't required to be regulated like traditional firearms. Manufacturers don't have to put serial numbers on them, making them untraceable. They also don't have to be registered and no background checks are required to buy them. That makes them essentially invisible to law enforcement, which led to them being known as "ghost guns."
Because of the ease of being able to buy gun kits, more and more teenagers are getting them. But they're also being bought second-hand already assembled. Such was the recent case of a 13-year-old who purchased an assembled P80 ghost gun through Instagram and accidentally shot another 13-year-old in the chest in northwest Charlotte.
David Borges, the former CEO of Polymer80, acknowledged that teenagers have been able to purchase firearm kits in an email he wrote in 2017.
Borges' letter was used as evidence in a lawsuit against the company.
"I get calls periodically on our pistol sales because some 16-year-old kid has ordered a pistol using his parents address and credit card," Borges wrote in the letter. "Mom's get pretty furious, and I hate being on the other end of those tail-tucking calls – a woman's wrath is something else as I'm sure you know."
Polymer80 has not responded to WBTV's repeated requests for comment.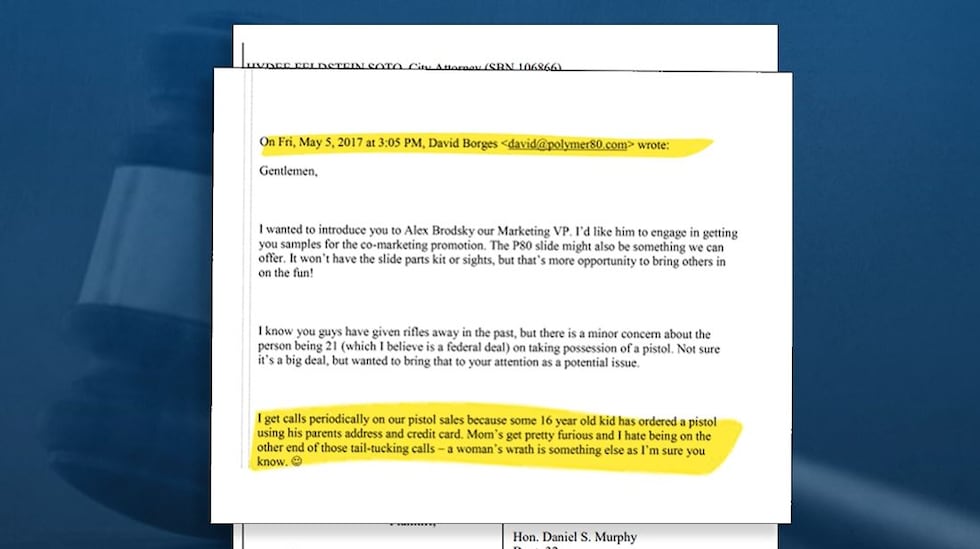 Solving crimes where guns are used can be tough enough, but law enforcement says guns without serial numbers make their jobs much more difficult.
"If you found a firearm at a crime scene and you were trying to look for leads immediately, you could do a fast trace through the ATF [Bureau of Alcohol, Tobacco, Firearms and Explosives] that would give you a kind of back history of who owned the gun, when it was transferred, who it was transferred to," said Capt. Balamucki. "When a gun doesn't have a serial number, it's a piece of the investigation that we don't have access to."
How Big Is the Problem?
It's hard to know how many ghost guns are out there. No federal agencies track the number of firearm kit purchases.
The ATF does, however, track gun retrievals from crime scenes. In 2021, the bureau recovered more than 20,000 ghost guns nationwide; last year, it recovered more than 28,000. Of them, nearly 1,000 came from North Carolina. A majority of North Carolina's ghost guns were recovered in Charlotte.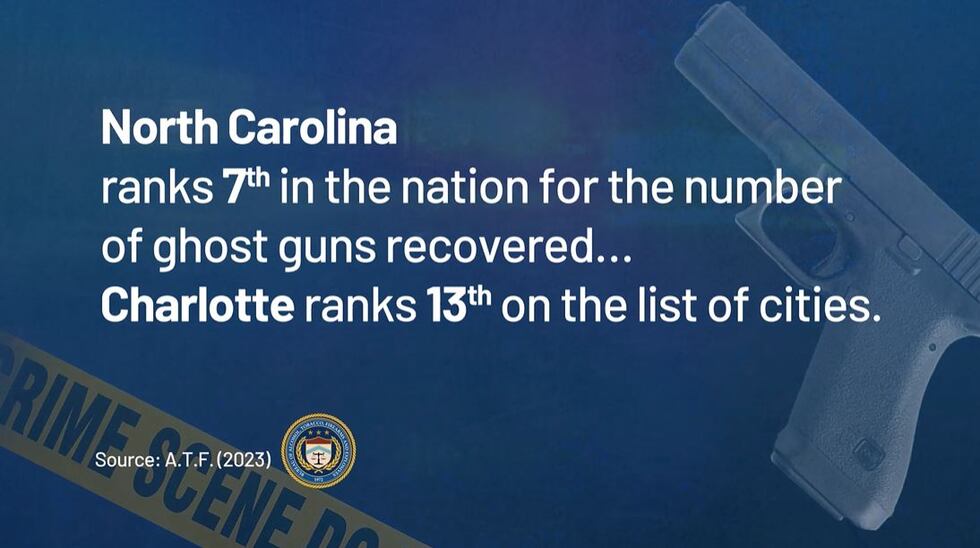 The number of ghost gun retrievals seems to have stabilized so far in 2023, with 678 ghost guns recovered in North Carolina, including 201 in Charlotte. Still, North Carolina ranks seventh in the nation among ghost gun retrievals, and Charlotte currently ranks 13th among U.S. cities.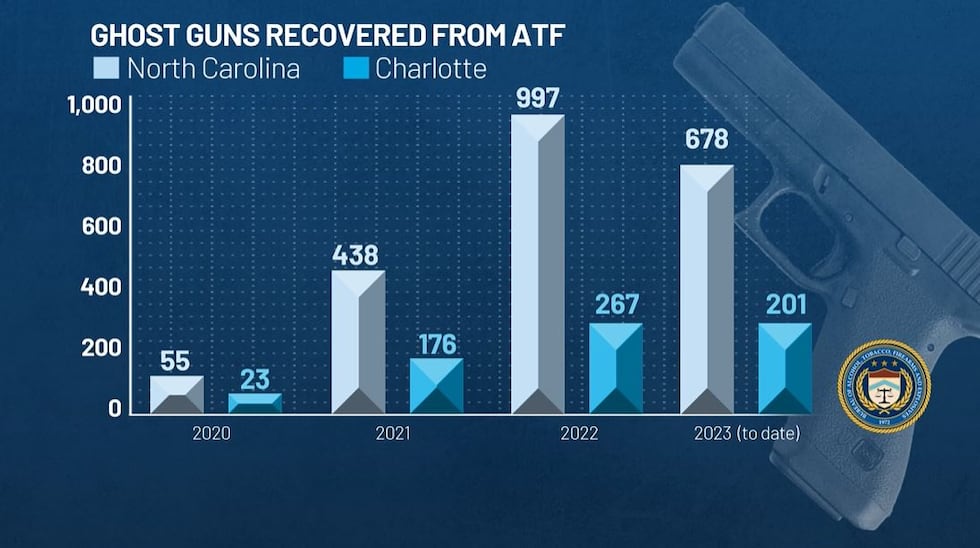 In the last three years, ghost guns have been tied to 31 homicides, 190 violent crimes such as assaults, domestic violence and robberies, and 201 felony charges of possession of a firearm by a felon in North Carolina.
Ghost guns are available in all types of models including, 9mm handguns, 45s, AR-15s and AK-47 rifles.
According to the Gifford's Law Center to Prevent Gun Violence, the market took off when, to circumvent California's assault weapons laws, firearm sellers began offering unfinished receivers for AR-15s and AK-47s in the early 1990s. Today, 30% of the guns the ATF recovers in California don't have serial numbers.
"We saw tremendous increases starting first on the West Coast and then increasing in cities on the West Coast in the East Coast, and in cities across the country, basically in every urban area, we're seeing really sharp increases," said David Pucino, an attorney with the Giffords Law Center to Prevent Gun Violence.
Will Biden's Rule Slow Ghost Guns' Proliferation?
In 2022, the ATF broadened its definition of "firearm" to include kits that people can assemble at home. The Biden administration's rule says that prior to selling ghost guns online, vendors must put serial numbers imprinted on the frame or receiver, conduct background checks on buyers, and retain sales records.
"The federal government has now taken steps to close the loophole that had allowed these companies to operate. So, what that means now is it pivots and it becomes an enforcement issue," said Pucino. "And what we need is a strong ATF to do what needs to be done in order to effectuate this law and to treat these products like the guns that they are."
Gun rights groups sued to block the regulation, arguing that the Biden administration requirements threatened private gunsmithing. A federal judge in Texas issued an injunction preventing the government from enforcing the rule, but in August, the Supreme Court sided with the Biden administration, allowing the government to require ghost-gun manufacturers to treat partially finished firearm frames like other guns.
Then, earlier this week, the Fifth Circuit Court of Appeals again blocked the rule from being enforced. The administration is likely to appeal to the Supreme Court.
While federal ghost-gun regulations have stalled, states and cities are fighting back in court and in state houses. Thirteen states and Washington, D.C., have passed laws restricting or banning ghost guns. North Carolina has not.
In addition, Polymer80 has been sued by Washington, D.C., Los Angeles and Baltimore, which accused the company of skirting regulations and violating local laws.
In May, Polymer80 settled Los Angeles' lawsuit for $5 million in payouts, including $4 million in civil penalties and $1 million against the company's two founders. The company also agreed to abide by California laws requiring serial numbers and background checks.
"Polymer80 is not really in the business of selling guns, they're in the business of selling guns without following gun laws. That is their bread and butter, and that's what they're going to continue to do," said Pucino.
North Carolina Attorney General Josh Stein supports the federal rule to close the ghost gun loophole. However, Stein told WBTV this week that the state currently has no plans to file any lawsuits against ghost gun manufacturers as other states have done.
Copyright 2023 WBTV. All rights reserved.