Temperatures running above average ahead of late-week cold front
Highs continue to top out in the 80s with a lot of sunshine.
Published: Oct. 3, 2023 at 4:52 AM EDT
|
Updated: Oct. 3, 2023 at 10:33 PM EDT
CHARLOTTE, N.C. (WBTV) - Gorgeous weather will continue this week with a few more sunny days with highs in the 80s.
Wednesday: Mostly sunny, stays pleasant
End of Week: Increasing clouds, highs near 80-degrees
Weekend: Big change to cooler weather, spotty showers possible on Saturday
High pressure will keep us dry, warm, and mostly sunny through Wednesday with high temperatures lifting into the low to mid 80s once again!
By Thursday, we'll start to see a little more cloud cover out ahead of our approaching cold front. Morning lows will start in the upper 50s and afternoon high temperatures will likely top out just shy of the 80-degree mark.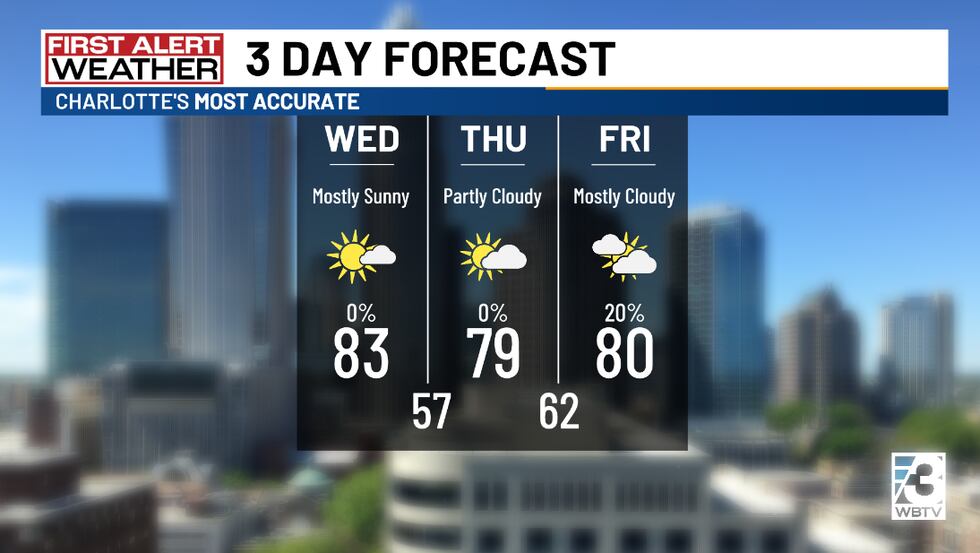 The aforementioned cold front swings overhead as we wrap up the work week! Although a stray shower is possible on Friday, most will stay dry with mostly cloudy skies and high temperatures near 80-degrees.
We'll have a slightly better chance for a shower or two on Saturday. Wind gusts will pick up to around 20mph to start out the weekend as our cooler temperatures get ushered in. Highs will only reach the low 70s on Saturday afternoon as a result! We're down into the mid 40s by Sunday morning and Monday morning with high temperatures struggling to reach the 7o-degree mark!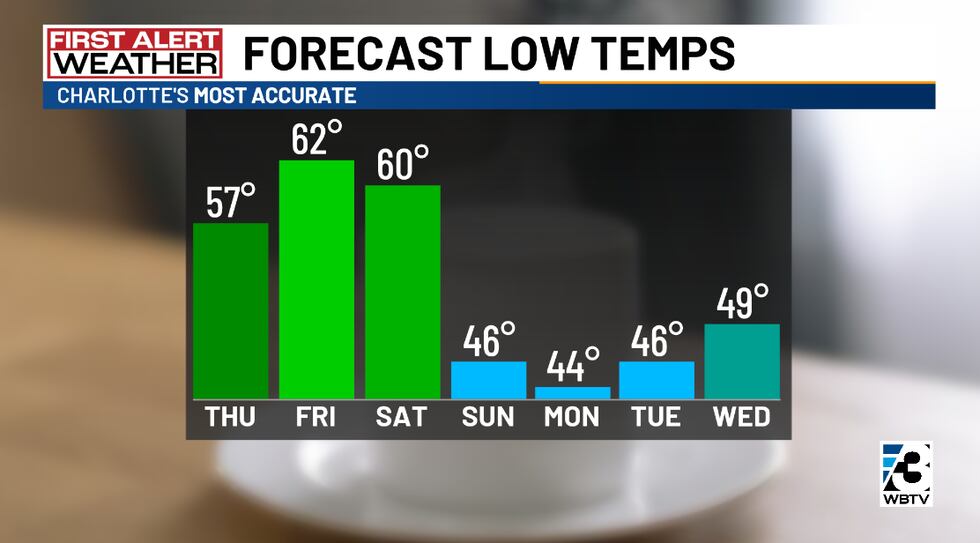 Download the free WBTV Weather app on your mobile device, to receive weather alerts and get your latest WBTV weather forecast on the go. You can also get the latest weather forecast on Roku and Amazon Fire's WBTV app.
Have a great rest of your week!
- Meteorologist Rachel Coulter
Copyright 2023 WBTV. All rights reserved.