Cabarrus Health Alliance, Cabarrus County, honored at recent conference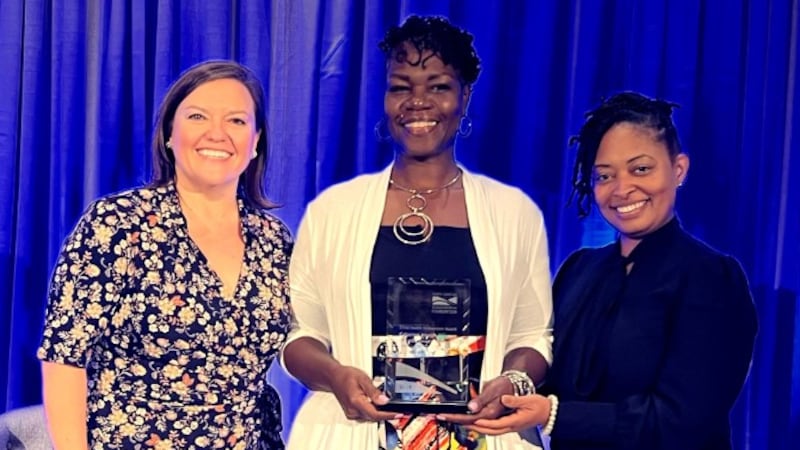 Published: Oct. 3, 2023 at 7:10 AM EDT
CABARRUS COUNTY, N.C. (WBTV) - Cabarrus Health Alliance (CHA) staff, programs, and community partners walked away big winners at this year's North Carolina Public Health Association (NCPHA) fall conference last week.
NCPHA is an association of individuals and organizations working to improve the public's health through political advocacy, public awareness, professional development, and the interface between research and practice.
NC Public Health Association - Rankin Legacy Award
Suzanne Knight, former CHA Clinical Director, received the Rankin Legacy Award. This award is given to a NCPHA member for recognition of the outstanding contributions to public health in North Carolina over the member's lifetime.
Knight served CHA and the residents of Cabarrus for over 25 years as a nurse, maternal and child health practice manager, and Clinical Director. She started her career at CHA in 1998, assisting mothers during newborn home visits. In 2001, she became a Clinical Services Supervisor, overseeing a team of twenty staff. From 2012 to her retirement in August 2023, Knight served as Clinical Director, responsible for Maternal Health, Family Planning, BCCCP, Pediatrics, CD, Immunizations, International Travel, Medical Records, and Vital Records.
North Carolina GlaxoSmithKline Foundation – Local Health Department Recognition Award
CHA's STOP School Violence grant was honored with the North Carolina GlaxoSmithKline Foundation Local Health Department Recognition Award. The award acknowledges local health departments that have developed an innovative program that has produced measurable, sustainable outcomes. Martil Cosper, STOP Program Coordinator, received the award on behalf of the organization.
The award recognized the department's implementation of innovative trainings and follow-up technical assistance opportunities focusing on universal and intensive classroom-based approaches that effectively improve school climate and student mental health in partnership with Cabarrus County and Kannapolis City Schools. To improve the overall school climate and create a safe learning environment, 123 educators have been trained in Reconnect for Resilience, 284 educators have completed Restorative Practices, and 92 have completed Restorative Conferencing.
NC Public Health Association - Partners in Public Health Award
Cabarrus County Commissioners received the NCPHA Partners in Public Health Award for their collaborative spirit and advocacy for improved behavioral health care access. The Partners in Public Health Award is given to organizations and professions outside of public health departments that have made significant contributions to public health in North Carolina over the past year.
In 2016, Commissioners convened the Mental Health Advisory Board. The multi-sectoral board oversees three task forces focused on data and assessments, access and impact, and trauma-informed communities. Commissioners invested over $11 million in organizations providing mental health services to Cabarrus residents, including funding a behavioral health holding unit at Atrium Health Cabarrus. Other programs that have received support include jail-based behavioral health clinicians, a re-entry alliance, and hiring the county's first Behavioral Health Director to oversee programs and services.
"It's an honor to be recognized for the work that is happening every day in our community. Public health professionals don't do it for the awards, but I'm elated Suzanne, Martil, County Manager Downs and our Commissioners could be honored in this public forum in front of so many others" said Erin Shoe, Public Health Director.
Copyright 2023 WBTV. All rights reserved.