No. 1 pick Bryce Young struggles again, dejected after Panthers fall into 0-4 hole
Carolina lost to the Minnesota Vikings 21-13 on Sunday afternoon.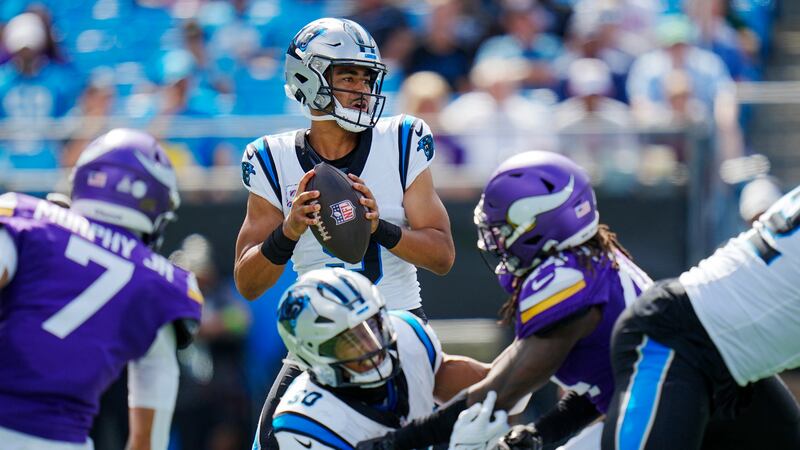 Published: Oct. 2, 2023 at 4:46 AM EDT
CHARLOTTE, N.C. (AP) - After many of his teammates had showered, dressed and left the stadium, Bryce Young sat motionless in front of his locker still in full uniform staring straight ahead while pondering another Carolina Panthers defeat.
This one seemed to hit the No. 1 overall pick hard.
The normally upbeat, happy-go-lucky Young was subdued as he spoke from behind a podium about unfamiliar territory.
The Panthers are now 0-4, a losing trend the QB never experienced at Mater Dei High School or at the University of Alabama, where he was 23-4 as a starter.
Young's indoctrination into the NFL has been a tough one, and things didn't get much better on Sunday.
He finished 25 of 32 for 204 yards, and the Panthers failed to score an offensive touchdown in a 21-13 loss to the Minnesota Vikings. Carolina has scored just two offensive touchdowns in 12 quarters with Young under center.
What bothered Young the most was Harrison Smith's strip-sack on him, which D.J. Wonnum scooped up and raced 51 yards for a touchdown to give the Vikings a 14-13 lead late in the third quarter at a time when the Panthers appeared in control.
"Turning the ball over is something we talk about a lot and that was a huge, huge, huge swing of the game," Young said. "That's solely, single-handedly on me. It's stuff we talked about. That's no one else but me."
Young admitted there were "multiple things" he could have done better.
Young's struggles picking up blitzes at the NFL level should be of concern to the Panthers. He's been sacked 11 times in three games and has thrown two interceptions and fumbled twice.
Furthermore, he has only two completions of longer than 20 yards in three starts.
The Vikings sacked him five times on Sunday, three coming off safety blitzes by Smith.
"They do some unorthodox stuff defensively, but it's stuff that we saw," Young said. "They did a good job of mixing it up and getting home. We talked about it and had plans for it and I didn't do a good enough job of executing that, whether it's getting the ball out of my hands when they are bringing too many we can block, or when it is blockable looks, making sure we're getting to the right people, things like that. I have to do a better job of communicating, executing."
Coach Frank Reich said he'll have to look at the tape to see what went wrong.
But he added that when teams are blitzing, the Panthers have to find a way to make them pay. Young didn't make that happen on Sunday.
Young's struggles come at a time when C.J. Stroud, whom the Panthers passed over with the No. 1 overall pick, is lighting it up in Houston.
The No. 2 pick has thrown for 1,212 yards and six touchdowns with no interceptions in four starts for the Texans (2-2), who defeated the Pittsburgh Steelers 30-6 on Sunday. His QB rating is 98, compared to Young's 66.6.
If the Panthers have any buyer's regret on Young, they certainly aren't going to admit it.
"Listen, you play quarterback in this league, in a game like that, just as a play caller, there is going to be a couple you want back," said Reich, a former quarterback. "I wish I would have done this or done that. That is the nature of the position. You know Bryce is progressing. He is getting better. I am excited about that. We all have to continue to get a lot better."
That includes an offensive line that is playing without both starting guards, and a wide receiving group that is proving to be average at best.
Reich said the Panthers aren't taking the approach of building for the future.
He said he wants to win now.
Given the Panthers already gave up their first-round pick in next year's draft to the Chicago Bears in order to move up to get Young, there's certainly no benefit to losing.
"We understand that progress is important. We understand that building is important. You have to have the maturity to realize all those things can go together, so that is what we will do," Reich said.
After the game, veteran receiver Adam Thielen was seen consoling a downtrodden Young.
"I love that guy, man," Thielen said. "He's got such a great future and I'm thankful for him. I just wanted him to know that this is a tough league. That's just how it is. It's tough and you have to keep fighting. But I have so much confidence in him and so much respect for him and this team."
Related: Panthers WR Adam Thielen eager to face Vikings, who released him after 10 seasons
Watch continuous news coverage here:
Copyright 2023 WBTV. All rights reserved.