Hornets ink jersey patch partnership with popular NC YouTuber MrBeast
This marks the first-ever collaboration between a creator-led brand and an NBA franchise.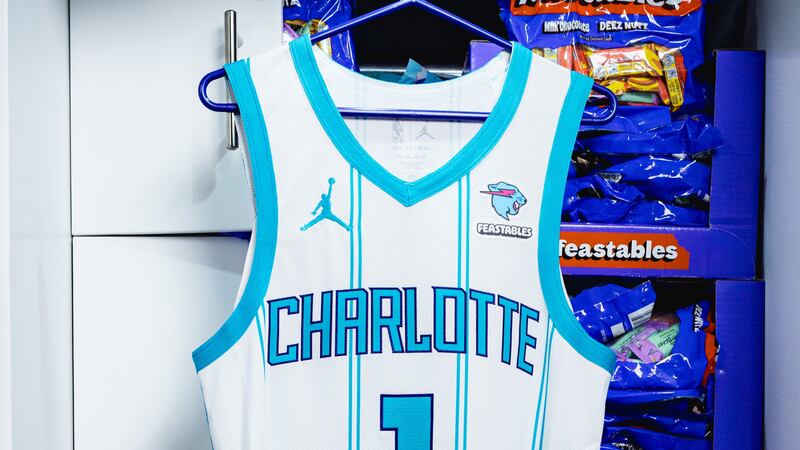 Published: Oct. 2, 2023 at 1:29 PM EDT
CHARLOTTE, N.C. (WBTV) - As the NBA kicks off Oct. 24, Hornets fans may notice a slight difference in their team's jersey.
Hornets Sports & Entertainment announced on Monday a partnership with Feastables, a snack brand founded by YouTuber Jimmy "MrBeast" Donaldson, that designates the company as the Official Jersey Patch Partner of the Charlotte Hornets. The partnership signifies the first such collaboration between a creator-led brand and an NBA franchise.
Under the deal, the Feastables logo will appear on all Hornets uniforms, as well as the uniforms of the Greensboro Swarm, and both the virtual and physical uniforms of Hornets Venom GT, the organization's NBA G-League and NBA 2K League affiliates.
The partnership also will include Feastables branding on the media backdrops for all Hornets press conferences and interviews. The two brands will collaborate on digital media, content and marketing opportunities.
This marks the second jersey patch of the Hornets after ending their partnership with online lending marketplace LendingTree earlier this year.
Known for his acts of philanthropy and fan engagement, MrBeast is one the most-subscribed individual YouTubers in the world, with more than 187 million subscribers. This move will also be a local one, as the creator is a North Carolina native, with his headquarters stationed in Greenville, N.C.
"This partnership is a first of its kind, and I am excited to see how creator-brands and the NBA continue to work together into the future," said Feastables' Reed Duchscher. "The Hornets are obviously one of the most exciting teams in the NBA and are a favorite among young people, so Feastables could not be more excited to partner."
Fans can purchase Hornets jerseys with the Feastables patch on the Hornets Fan Shop. Or, if you want to see the jerseys in person, you will be able to soon, as the Hornets play their first home preseason game on Sunday, Oct. 15 at 5:00 p.m.
The Hornets will take on the Atlanta Hawks at the Spectrum Center for their first regular-season game on Oct. 25.
Related: 'A single, simple goal': New Charlotte Hornets owners discuss purchase, desire to win
Watch continuous news coverage here:
Copyright 2023 WBTV. All rights reserved.