Retired deputy creates fellowship, support group for law enforcement
CUFF breakfast debuts at First Baptist Church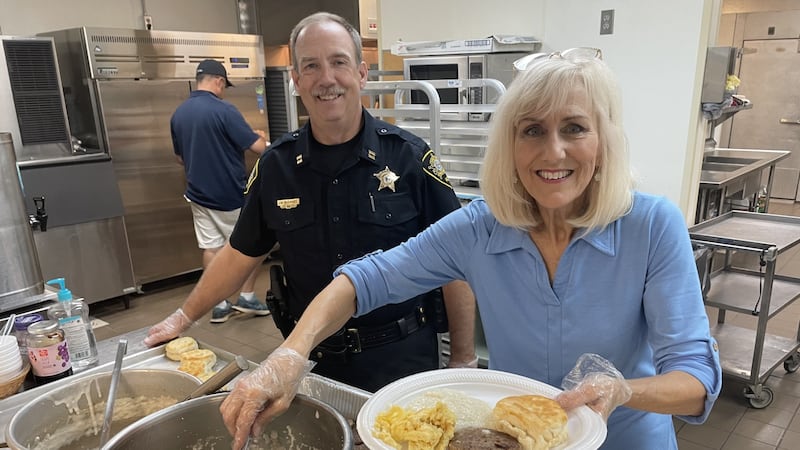 Published: Sep. 27, 2023 at 9:07 AM EDT
ROWAN COUNTY, N.C. (WBTV) - The first Cops United Faith Fellowship (CUFF) breakfast on Wednesday morning attracted a mix of active and retired law enforcement personnel from the Rowan Sheriff's Office, the Salisbury Police Department, North Carolina State Highway Patrol, and other agencies.
CUFF is a faith-based effort to provide support to those who are currently serving or who have served in law enforcement. It was began by Debra Yokley, a now retired 32-year veteran deputy and detective with the Rowan Sheriff's Office.
"This was placed on my heart many years ago," Yokley said. "My law enforcement career took a toll on me emotionally. Officers need fellowship and to know that there are other officers they can reach out to."
An informal breakfast is one way to that, Yokley said, but support and encouragement can be offered at anytime and is always welcome.
"It's a way to fellowship and know that we're all there for each other," Yokley said. "After I retired I've had to deal with the emotional trauma of a law enforcement career and I don't want any officer to feel like they're alone."
Wednesday's CUFF breakfast was held in the fellowship hall at First Baptist Church in Salisbury. Yokley said it may become a quarterly event and is hopeful that more active and retired law enforcement personnel will attend.
Copyright 2023 WBTV. All rights reserved.