Cooler temperatures will stick around
Spotty showers possible the next couple of days
Published: Sep. 26, 2023 at 4:51 AM EDT
|
Updated: Sep. 26, 2023 at 5:10 PM EDT
CHARLOTTE, N.C. (WBTV) - After starting the week in the mid 80s, the 70s are back through Thursday.
Midweek: Clouds, cooler, little bit of rain
Late Week-Weekend: More sun, seasonably warm
Cooler and mostly cloudy conditions are here to stay through the middle of our work and school week. After starting off near 60 degrees Wednesday morning, temperatures will only reach the mid-70s by the afternoon hours. There will also remain a small opportunity for a few showers.
We'll start to see improvement in the sky conditions by the end of the week with temperatures gradually lifting into the upper 70s by Thursday afternoon and around the 80-degree mark by Friday.
Rain will be limited for any weekend plans with more sunshine expected each afternoon. Highs will reach near 80 degrees on Saturday and the upper 70s by Sunday.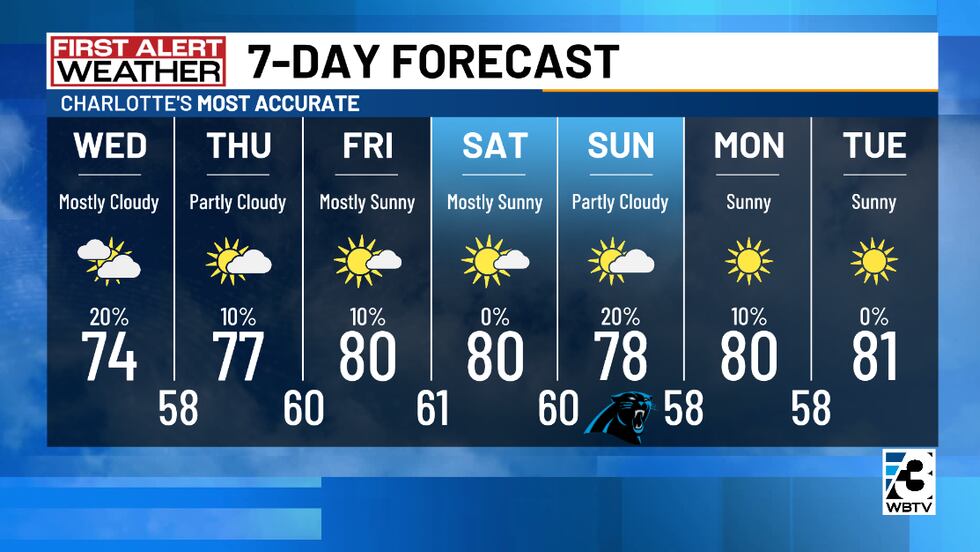 Download the free WBTV Weather app on your mobile device, to receive weather alerts and get your latest WBTV weather forecast on the go. You can also get the latest weather forecast on Roku and Amazon Fire's WBTV app.
Have a great rest of your week!
- Meteorologist Rachel Coulter
Copyright 2023 WBTV. All rights reserved.