#MollysKids: Oaklyn Lowman collects 383 gallons of soda can tabs to donate to hospital
Her mom is thrilled Oaklyn is doing well enough they don't need to go back for another year.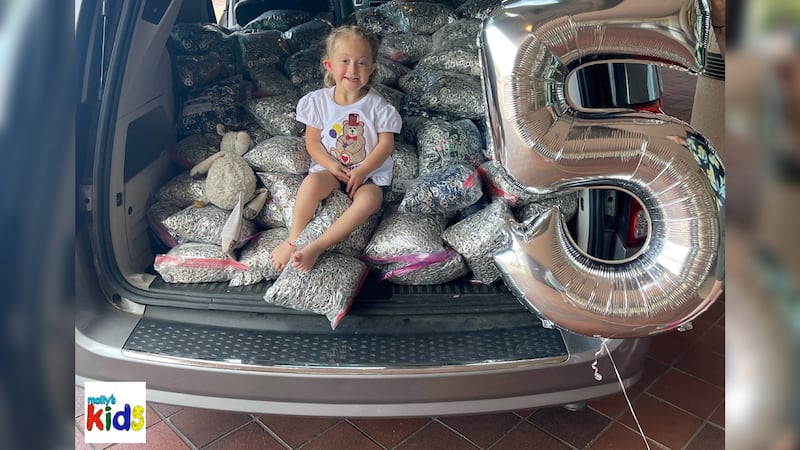 Published: Sep. 25, 2023 at 4:07 PM EDT
CHARLOTTE, N.C. (WBTV) - Three hundred and eighty-three gallons of soda can tabs.
"Thank you," says Oaklyn Lowman's mom, Amber.
"We just got home from our trip to Shriner's Hospital for Children Greenville, S. C.," Amber said. "So many people reached out after seeing the #MollysKids posts about my daughter. We're still receiving tabs people are mailing. I'll still collect! We'll turn more tabs in when we return again."
The best news? This 5-year-old in Gaston County with many uphill medical battles -- doctors aren't sure of her diagnosis despite many tests -- won't be returning for another year. She won't be going back until September 2024.
[Previous coverage: 4-year-old Oaklyn spreads joy despite no diagnosis for medical condition]
So yes, her mom will still collect. But she has a year before donating what she collects back to the hospital.
Her mom is thrilled Oaklyn is doing well enough they don't need to go back for another year.
"Oaklyn's left hip socket has begun developing creating curvature as it should," Amber said. "Her doctor believes it was developing slower because Oaklyn has only been walking for 18 months. We feel great about donating these 383 gallons of tabs. It's because of everyone who wanted to help gather them for the hospital to recycle [to help fund children's treatments], so thank everyone who read about Oaklyn and reached out."
If anyone else would like to know more about collecting them or sending tabs to Amber, email me at molly.grantham@wbtv.com. I'll forward your email to her directly. (I won't share people's personal information publicly; this is a way around that.)
Great, great picture.
-Molly
Copyright 2023 WBTV. All rights reserved.