Verstappen victorious, Kannapolis-based Haas F1 Team misses out on points in Japanese GP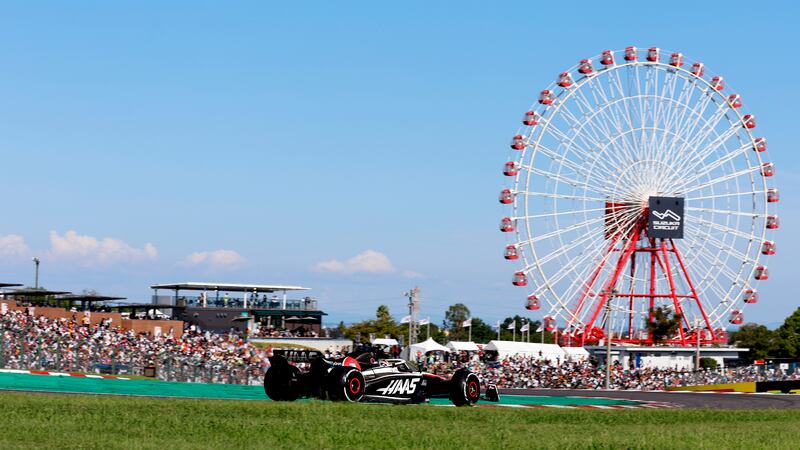 Published: Sep. 24, 2023 at 6:25 AM EDT
KANNAPOLIS, N.C. (WBTV) - Max Verstappen was back to his winning ways in Japan on Sunday, while the Kannapolis-based Haas F1 Team failed to capitalize on the momentum created by last week's points-scoring finish,
MoneyGram Haas F1 Team finished with Nico Hulkenberg 14th and Kevin Magnussen 15th at the Japanese Grand Prix, Round 17 of the 2023 FIA Formula 1 World Championship, held Sunday at Suzuka International Circuit.
"It was a tough race I'd say, but the positive is the team did the best they could with what we've got," said Team Principal Guenther Steiner. "We got close to fighting our opponents, we were on a different strategy with Nico, and it almost worked out. I know almost is not good enough but with Kevin we lost out because of the spin when Sergio Perez hit him, so we fell back. In the end, we know it's tough at the moment, but as long as we keep on delivering with what we've got that's a positive, and when we get a better car, we'll be there ready to take it."
Hulkenberg took the start on Pirelli P Zero Red soft tires from 18th place but weaved his way through to 12th across the frenetic opening stages, after which the safety car was called for debris littering the track. Hulkenberg stopped on lap 8, taking on Yellow medium tires, racing on the outskirts of the top-10, undertaking two further stops, on lap 21 for White hards, and again on lap 38 for mediums. The German finished the race in 14th position.
"I think I stayed out of the messy part at the start as on the left, two cars ahead of me, there was contact," said Hulkenberg. "I managed to capitalize from that on the inside line and took three or four cars which was quite nice and rewarding. I then gained one further position from someone else, so it was good. We went into the race with a three-stop intention, obviously we're not the best on tire management, so I think it was the right call."
Magnussen, who started on mediums, had to take evasive action on a chaotic opening first lap, the Dane still gaining a position to run 14th. Magnussen remained on the fringes of the top-10 but was tipped into a spin at the hairpin by Red Bull Racing's Sergio Perez, who received a time penalty for causing the incident. Magnussen lost crucial race time and had to come into the pits, taking on hard tires, before making a second stop on lap 32 for another set of the compound. Magnussen took the checkered behind his teammate in 15th.
"I got hit on the rear tire, it was a pretty desperate move, but it is what it is," Magnussen said. "I got spun around, and then we had to pit – that was too early for the two-stop strategy with the tire degradation that we have on our car. It made the situation a lot worse by pitting at that point and I didn't want to do a three-stop, so it really ended our race."
Up front Red Bull Racing's Max Verstappen claimed victory, his 13th of the season, ahead of McLaren drivers Lando Norris and Oscar Piastri.
Next Up is Round 18 of the 2023 FIA Formula 1 World Championship is the Qatar Grand Prix at the Lusail International Circuit. Qualifying – Friday October 6. Sprint – Saturday October 7. Race – October 8.
Copyright 2023 WBTV. All rights reserved.