Salinas makes NHRA history in Concord with first-ever 300 mph 1/8-mile run at Betway NHRA Carolina Nationals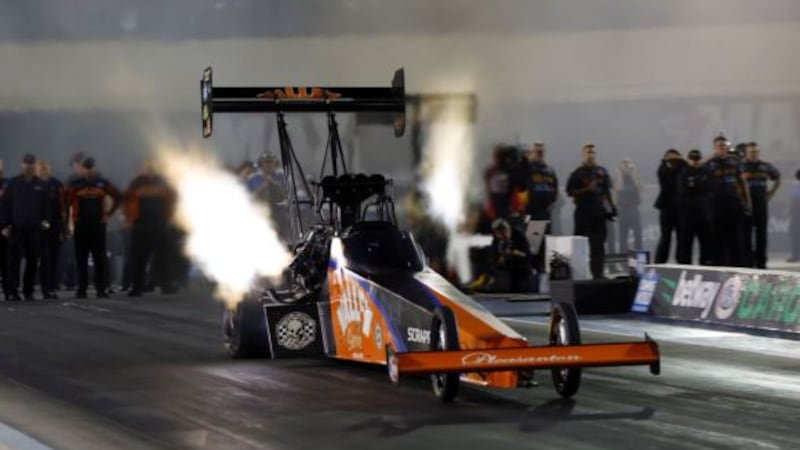 Published: Sep. 24, 2023 at 6:32 AM EDT
CONCORD, N.C. (WBTV) - Top Fuel's Mike Salinas became the first driver in NHRA history to go 300 mph in the 1/8-mile, setting both ends of the track record on Saturday at zMAX Dragway en route to qualifying No. 1 at the 15th annual Betway NHRA Carolina Nationals.
Robert Hight (Funny Car), Erica Enders (Pro Stock) and Gaige Herrera (Pro Stock Motorcycle) also qualified No. 1 heading into Sunday's pivotal eliminations.
In the Lucas Oil Drag Racing Series, the McPhillips Racing Top Alcohol Dragster driven by points leader Tony Stewart was found to have unapproved ignition parts. Due to the items found, he was disqualified from the event and zero points were awarded.
Salinas powered to an epic blast of 3.647 seconds at 338.00 mph in his 11,000-horsepower dragster, earning his third No. 1 qualifier in 2023. He also went a whopping 300.80 mph to the 1/8-mile during the run, marking the first time in NHRA history a driver has reached 300 mph in the 1/8-mile and making him the first member of the "Phillips Connect 300 to the 1/8″ club, which nets him a $30,000 bonus. It was also the fifth fastest run in Top Fuel history, as Salinas aims to pick up his second win of the season on Sunday.
"The track was amazing," Salinas said. "We've been working on this for a while and our car has been close several times in testing. We knew we were going to do it, we just didn't know when. Tonight was the perfect time to do it. The car seemed to like what we're doing.
"We've been close and to put together a run like this, it is awesome. These are the types of things we're out here for and what it's all about. What an amazing run."
Antron Brown took the second spot, going 3.655 at 332.75 – and 299.00 to the 1/8-mile – and Doug Kalitta, who won last weekend in Reading, qualified third with a 3.665 at 331.61.
Funny Car points leader Robert Hight, a seven-time winner at zMAX Dragway, also put on an impressive show to close out the night, topping Matt Hagan's spectacular run on Friday with a track-record performance of 3.824 at 330.15 in his 11,000-horsepower machine. A night after Hagan made the quickest run of the year in the class, Hight went even quicker to earn his fifth No. 1 qualifier of the season and the 82nd in his marvelous career.
After suffering a huge explosion on the starting line during Friday's qualifying session, Hight and his team rebounded in fine fashion on Saturday, making a pair of stellar runs.
"Sometimes when you really go up there and push and try really hard, it doesn't work out," Hight said. "Everything has to come together, and there are a lot of variables. It's a science, but there is some luck with it. Everything has to come into place. But we were pushing, we wanted to go out there and get the No. 1 spot. I never get too hopeful, but to do it by .001, that tells you how close this racing is.
"Hats off to my guys for rebounding from a tough go of it yesterday. I have a lot of confidence in this team. This is a great racetrack. We've had a lot of success here over the years, and it was cool to see records fall here tonight."
Hagan, who closed out the night with a strong 3.828, will take second with his 3.825 at 333.49 and Bob Tasca III moved to third with a career-best run of 3.836 at 331.94.
Erica Enders has opened the Pro Stock playoffs with two straight No. 1 qualifiers thanks to Friday's run of 6.509 at 210.18. It's the fourth top spot of the season for the defending world champion and the 33rd in her career as she continues to build momentum in trying to earn her sixth world title. A win on Sunday in Charlotte would help the cause a great deal and she'll open eliminations against Mason McGaha.
"Today didn't really go as planned but making that monster run yesterday was significant," Enders said. "It showed that what we had in Reading, carried over here in Charlotte. We'll make the adjustments accordingly. I'm proud for the No. 1 position. All of those points are going matter at the end of the game."
Camrie Caruso took the second spot with a 6.525 at 209.20 and defending event winner Aaron Stanfield qualified third with a 6.533 at 210.50. Points leader Matt Hartford, who won the last two races, qualified eighth with a 6.542.
In Pro Stock Motorcycle, Gaige Herrera continued to cement his qualifying dominance, taking his 10th No. 1 spot of the year on the strength of his 6.731 at 200.44 mph run from Friday. On the weekend of Pro Stock Motorcycle's 500th career event, Herrera hopes to pick up his seventh win this season and also his first career Countdown to the Championship victory.
"I feel really confident going into tomorrow. I have a really bad hot rod; it's fast and has been all season," Herrera said. "To be able to get 10 out of 11 No. 1 qualifiers, it's just remarkable. "
Eddie Krawiec jumped up to second on Saturday with a run of 6.766 at 200.00 and Angie Smith took third after going 6.805 at 197.48. Points leader Matt Smith qualified ninth.
Eliminations for the Betway NHRA Carolina Nationals begin at 11 a.m. ET on Sunday at zMAX Dragway.
Copyright 2023 WBTV. All rights reserved.