USO South Carolina sends basic training graduates off to AIT with a special treat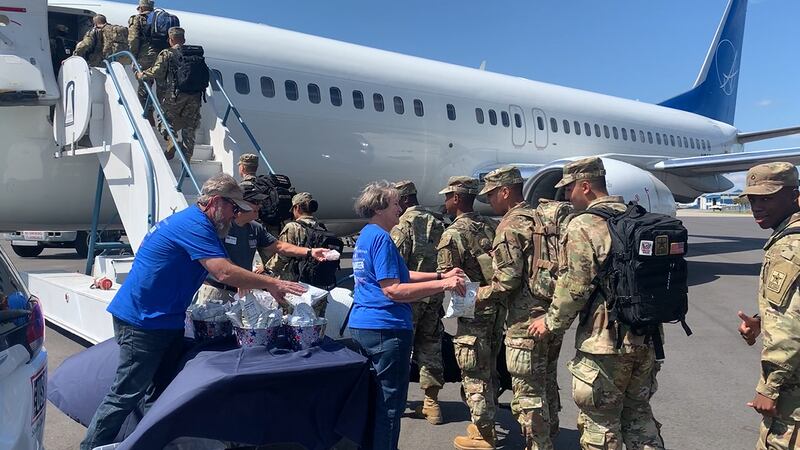 Published: Sep. 22, 2023 at 7:11 PM EDT
COLUMBIA, S.C. (WIS) - A group of soldiers fresh out of basic training from Fort Jackson received a special treat from USO South Carolina on Friday.
The soldiers were on their way to Advanced Individual Training — or AIT as it's referred to in the Army — where they will learn how to do their specific jobs.
Pvt. Jada Sims and Pfc. Roman Tavake attended basic training at Fort Jackson and graduated Thursday. They are headed to Fort Sill, Okla. for AIT on a chartered plane with other soldiers who graduated alongside them.
It can be a long day of traveling after an already tiresome time, both physically and mentally, at basic training.
"I don't think I've slept yet," laughed Tavake when asked what time he got up that morning.
The USO was set up on the flight line to send Sims, Tavake and their peers off with snacks to help keep their morale up and their hunger at bay.
"It feels good because you get recognized for what you're doing, even though I haven't even really done anything considering I'm just graduating basic training," Sims said. "It's still like, a different type of respect once you're actually in the armed forces."
The USO is a non-profit organization with a mission to support service members and their families through a variety of programs and services.
"We are the bridge between the American people and America's service members," Senior Operations and Programs Manager for USO South Carolina Katie Kennedy said. "We get to provide that goodness to let service members know that their community and country support them and appreciate what they do."
Kennedy told WIS the USO is at every chartered flight to hand out snacks — which are provided by donors — to the new soldiers as they leave Fort Jackson and the gesture is well received.
"We are one of their first places where they get to see a friendly, smiling face and they get to enjoy maybe what was considered contraband while they were in basic training," Kennedy said. "We'll give them some cake pops and some snacks they haven't had in those 10 weeks they've been at Fort Jackson. So, they're very excited to see us."
USO South Carolina relies on a "great team" of volunteers and donations from the community to put on events like this and others.
"We can't do anything that we do without the donations and without support of our community and the American people," Kennedy added.
Donations of pre-packaged, individually wrapped snacks, bottled water and financial contributions are accepted by USO South Carolina.
Financial donations can be made on their website and supplies can be dropped off at the USO Center at the Columbia Metropolitan Airport.
Kennedy also said they're always looking for volunteers to help at the airport Monday through Friday from 8 a.m. to 8 p.m.
"I would thank them [for] their support everything they put in for us," said Tavake. "I think all of us who [are] going to AIT today [are] going to be thankful that they're here."
Notice a spelling or grammar error in this article? Click or tap here to report it. Please include the article's headline.
Stay up to date with WIS News 10. Get the app from the Apple App Store or Google Play Store and Stream us on Roku, YouTube, Amazon Fire, or Apple TV.
Copyright 2023 WIS. All rights reserved.