Lack of big passing plays contributing to slow start for Bryce Young and the Panthers
"Our struggle on offense, it's not one person," coach Frank Reich said.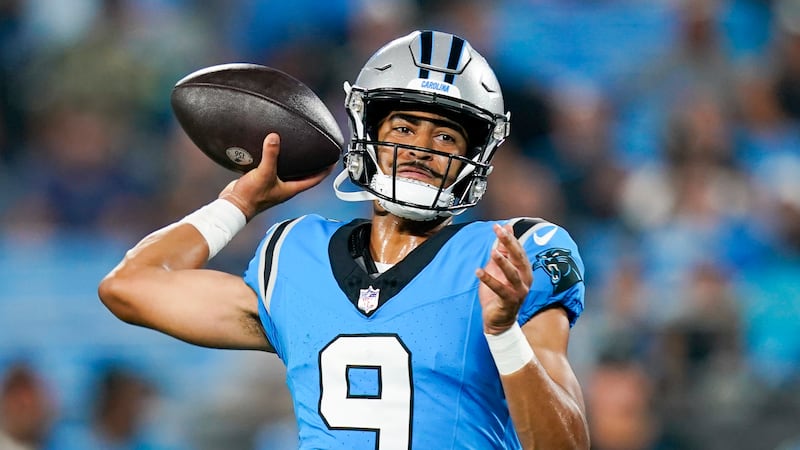 Published: Sep. 19, 2023 at 8:37 PM EDT
CHARLOTTE, N.C. (AP) - Bryce Young and the Carolina Panthers have struggled to push the ball downfield in their first two games.
Until they figure out how to do that, they'll likely continue to lose.
Carolina has just one pass play of longer than 15 yards this season, a 22-yard reception by rookie Jonathan Mingo in Monday night's 20-17 loss to the New Orleans Saints. That has led to an 0-2 start, leaving the Panthers two games behind unbeaten NFC South foes Atlanta, Tampa Bay and New Orleans.
That isn't necessarily all on Young, the No. 1 pick in the NFL draft — although he's struggled at times to connect with open receivers.
The offensive line has struggled with pass protection in part because of having to start two young players at the guard spots with regulars Austin Corbett and Brady Christensen on injured reserve. And Carolina's receiving group which consists of Adam Thielen, DJ Chark, Terrace Marshall and Mingo aren't getting enough separation.
"Our struggle on offense, it's not one person," coach Frank Reich said.
The numbers aren't good.
The Panthers are averaging just 13.5 points and 133 yards per game through the air. They've turned the ball over four times leading to 17 points.
For the most part, it has been ugly — and Reich knows that. But he's optimistic it will change soon.
"I've seen this before," said Reich, who previously coached in Indianapolis. "It's not that far away. It looks bad but, really, I don't believe that it's that far away. We make a couple plays here or there and next thing you know you have 28, 30 points. I know that's true. I know we have the players and the coaches to do it. I have zero doubt about that."
WHAT'S WORKING
The Panthers pass rush is getting the job done since moving to a 3-4 defensive scheme with eight sacks in the first two games. One of the big problems is they've been on the field too much as they haven't had the support from the offense. Frankie Luvu is leading the way with 2 1/2 sacks, while Brian Burns has two. Burns has also aided in a few sacks by getting pressure on the opposing QB, forcing them to step up into the arms of awaiting teammates.
WHAT NEEDS HELP
The Panthers simply aren't getting the job done on third down, converting fewer than one-third (9 of 28) of their opportunities.
Carolina also doesn't appear to have an option to go to on third-and-short situations as they did last season with bruising back D'Onta Foreman.
STOCK UP
Eddy Pineiro has now made 23 consecutive field goals going back to last season. That included a pair of 50-plus-yard field goals on Monday night. He's now converting an impressive 90.5% of his field-goal attempts (68 of 75) for his career. Baltimore's Justin Tucker is the NFL's most accurate field-goal kicker of all time at 90.3% among those who have at least 100 attempts. Pineiro needs 25 more attempts to qualify for that list.
STOCK DOWN
The No. 1 rule of playing with a rookie quarterback is you have to protect him. Carolina's offensive line simply isn't doing that. Young has spent the better part of the past two games trying to escape pressure and hasn't had a chance to settle in and get comfortable in the pocket. "We have to protect No. 9," running back Miles Sanders said.
INJURIES
Linebacker Shaq Thompson has a broken right leg and is expected to miss the remainder of the season. Thompson had surgery Tuesday to fix a fractured fibula. Reich said it's hard to put into words how much Thompson brings to the team, calling him a team player and "a warrior, a guy who knows how to practice."
Thompson has four 100-tackle seasons in nine years with the Panthers and is considered the team's emotional leader on defense. It's unclear who'll take Thompson's spot. The news is a crushing blow for the Panthers defense, which lost starting cornerback Jaycee Horn to a hamstring injury last week. Horn is expected to miss at least six weeks.
KEY NUMBER
52 — Consecutive games in which the Panthers have lost when trailing at any point in the fourth quarter, the longest streak in the NFL. The previous time Carolina overcame a fourth-quarter deficit to win was Oct. 21, 2018, when they trailed 17-0 against the Philadelphia Eagles heading into the fourth quarter and won 21-17.
NEXT STEPS
The Panthers head out West to face Seattle on Sunday.
Copyright 2023 The Associated Press. All rights reserved.