Kannapolis-based Haas F1 Team says "Konnichiwa," preps for Japanese Grand Prix
Team upbeat after strong qualifying run, points finish in Singapore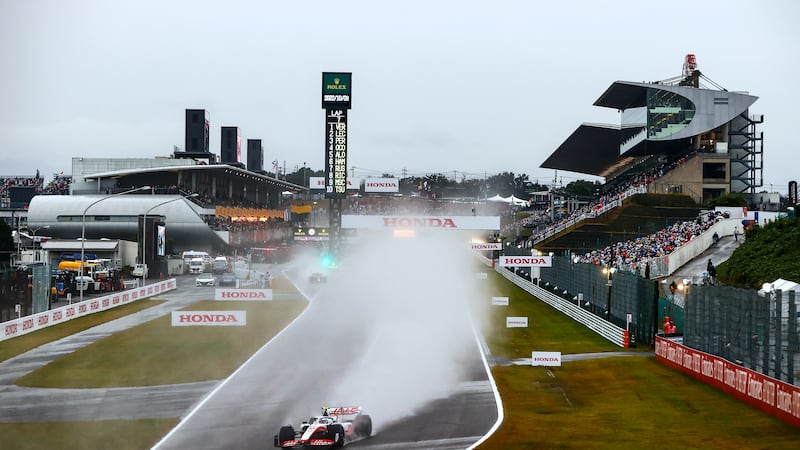 Published: Sep. 20, 2023 at 6:05 AM EDT
KANNAPOLIS, N.C. (WBTV) - MoneyGram Haas F1 Team has headed straight from Singapore's streets to Suzuka's sweeps for Round 17 of the 2023 FIA Formula 1 World Championship, the Japanese Grand Prix.
Japan initially joined Formula 1′s schedule at Fuji Speedway in 1976, a race made famous for the title showdown between James Hunt and Niki Lauda, but after its second year the country was absent for a decade. When Formula 1 eventually returned to Japan, in 1987, it did so at the demanding figure-of-eight Suzuka Circuit.
Its placement in the calendar means Suzuka has been the scene for the crowing of several world champions, some after high-profile collisions, while Max Verstappen became the latest world champion to secure a title at Suzuka, in 2022. It will be the last Suzuka race to take place in the fall for some time with the event due to shift to spring from 2024.
Speak to any Formula 1 driver and they will immediate place Suzuka among their favorite race tracks. The drivers cascade into the high-speed right-hander at turn 1 before plunging immediately into a sequence of Esses, undulating through the scenery with rapid changes of direction. Fast corners such as Degner 1 and Degner 2, Spoon Curve and 130R require inch-perfect precision while more technical turns including the hairpin and chicane are also deceptively tricky. The close proximity of grass, gravel and unforgiving barriers means even minor errors can be heavily punished.
Torrential rain and typhoons can even interrupt proceedings at Suzuka. On three occasions (2004, 2010, 2019) qualifying was moved to Sunday morning following the threat of a typhoon, while in 2022 the race was shortened with only 28 of 53 scheduled laps completed due to persistent heavy rainfall.
Kevin Magnussen has entered six grands prix at Suzuka, scoring a best result of eighth with MoneyGram Haas F1 Team in 2017, while nine-time Suzuka starter Nico Hulkenberg has twice finished inside the top six.
Ayao Komatsu – Director of Engineering:
You first started working in Formula 1 in 2003 having moved to the UK from Tokyo back in 1994. Do you reflect on your journey in motorsport when you visit Suzuka each year for the Japanese Grand Prix?
"I don't really look back at my career when I'm in Suzuka, for obvious reasons, when there are still plenty of races left and we're really deep in the middle of it. I don't tend to reflect but when I was a kid I grew up watching Formula 1 at Suzuka with Prost and Senna, I have that image in my head, so when I'm looking at that turn one chicane, that image stays with me, it's a good memory. That's when I started taking an interest. When I first reflected it was my first Japanese Grand Prix as an employee of a Formula 1 team, we were in Fuji in 2008 – when Fernando won it, and my mum came. That was nice and I was thinking wow, I made it when nobody thought I could. It's nicer to see the home fans obviously, who are passionate people."
For the first time since COVID, schools will be back in the pitlane to meet teams on Thursday. You've experienced home races for the team in the US, and for many staff in the UK and Italy, how does it compare to interacting with fans from your home country?
"It was such a shame we couldn't do that last year because one of the highlights for me definitely is when local school kids come, every race should do that. They don't just turn up, they have lessons at school where they learn about the sport and the team and then come with flags and personalized messages and they take time to learn what we're doing. They also learn English to be prepared to speak a few words at track, and for many, it's the first time they meet non-Japanese, European people. They just want to say that one sentence and interact, it's amazing. I think Japanese people as a nation, when they see something new, they want to know more about it. I think in their culture if you're exposed to something, they go really deep."
You have two young sons that you take away on adventures and activities when you're not working. Do they share your passion for motorsport and do they understand the importance of your role within the team and your journey to get here?
"Ryuma and Seiki love motorsport. They know quite a lot about it, even though I don't teach them much. They love watching, and with Lego they make different cars and now they're karting as well. They're really passionate about it. I guess they know my role in the team and that I moved to the UK to try and get into Formula 1, so they're very engaged. When they've previously come to the Haas family day at Silverstone, or when Ryuma, my older child, went to Suzuka when he was really young, they love it. Even when we go karting, they're not just interested in driving, they're interested in all aspects, like tire pressures, strategy, they know a lot."
The VF-23 hasn't been an easy car to manage from an engineering perspective. What have been the priorities in your team to help alleviate issues for drivers, and as a team, what areas stand out for you so far this season?
"Yes, the VF-23 has weaknesses but one good point to start with is that our qualifying performances have been good. Nico brought such an amazing baseline, so we knew the limit of the car in qualifying, but at the same time it was clear that our long-run race pace was the issue. So, we've been really focused on that and even on the driver's side, they've been open to it from day one. Of course, when the car is not great, it's so important that the trackside team, the design office, and the aerodynamics team communicate with each other really well and understand what we need to improve. We've got a reasonably sizeable change coming for Austin, which is a precursor for next year as well so let's see how that performs. We're not expecting magic but whatever we run there, will be unbelievably important for next year."
Kevin Magnussen:
Some drivers decide to stay in Singapore after the race while others choose to travel to Japan for a few extra days before activities begin in Suzuka. What was your travel plan?
"After the race, my team and I stayed in Singapore for a few days, hung out and did some training. It feels good at least to just chill out and train well the day after the race and do what we need to do physically to prepare for Suzuka."
Your best result at Suzuka came in your first season at Haas with eighth place. What is it about this circuit that sets it apart from others?
"It's just a cool track, it's super high-speed and the flow of the track is incredible. I also think there's been some amazing battles throughout the years here in Formula 1. There's a lot of Senna history here and that era of Formula 1 where history was really made, for example with that lap one, turn one incident between Senna and Prost. I think it's good to have a variety of Formula 1 races so it's not all the same. Suzuka is unique in that sense and I think that's great."
The race weekend is also unique for the passion the fans bring, again, in whatever the weather. Is it something as a driver during a busy race event you notice?
"They're just so enthusiastic. The fan culture in Japan is something else and Formula 1 is really celebrated there, with lots of merchandise and homemade hats and flags. They're really into it and that's always cool to see."
Nico Hulkenberg:
Some drivers decide to stay in Singapore after the race while others choose to travel to Japan for a few extra days before activities begin in Suzuka. What was your travel plan?
"Japan is so far away that when you get an opportunity to explore for a couple of days, I think you should take it. Our engineering department, some other members of the team, and myself went to Tokyo. It's also rare that I get to spend time with the team away from the track, so this was a fun way to spend it."
Between 2012 and 2016, you finished inside the top eight in every race at Suzuka. What is it about this circuit that sets it apart from others?
"It flows, it has elevation changes, it's physically a challenge on the body – it has everything. 130R, Degners, and Spoon are all unbelievable corners to drive through. It's a racers circuit and no matter the conditions, and we know they can get pretty extreme, it's usually a wild ride."
The race weekend is also unique for the passion the fans bring, again, in whatever the weather. Is it something as a driver during a busy race event you notice?
"When you think of Suzuka, you always have these enthusiastic fans in mind. It's a joy coming into the circuit every morning because they line the roads up to the paddock and are so kind in bringing you gifts. Over the years I've collected some very cool keepsakes. Let's see what's in store for me this time."
Copyright 2023 WBTV. All rights reserved.