Gorgeous weather continues before rain chances increase into weekend
Showers are possible Friday evening and could continue Saturday.
Published: Sep. 20, 2023 at 5:35 AM EDT
|
Updated: Sep. 20, 2023 at 5:44 PM EDT
CHARLOTTE, N.C. (WBTV) - The stretch of nice weather across our region will continue for a couple more days!
Next Few Days: Dry, pleasant Temperatures
Saturday: Gusty breezes, little bit of rain
Sunday: Looks dry and seasonal
Skies will come with a mix of clouds and sun, with seasonal afternoon highs in the lower 80s. Dry air will continue to stick around and that will help the lows bottom out in the 50s and 60s. Things will start to change as we head into Friday.
By Friday, cloud cover will be on the increase and highs will fall back to the upper 70s as a gusty breeze picks up. Rain chances will start to move into our eastern counties late in the afternoon and evening and still try to push west, as far as Interstate 77 through the overnight period, with those areas seeing the highest chances for rain as we head into the weekend.
As for the weekend, a developing storm off the east coast of Florida will drift up along the Carolina coast Friday night into Saturday, throwing heavy rain and strong wind gusts to near 40 mph in eastern North Carolina. As for our area, rain chances look to no more than about 40% at this point (perhaps lower west of I-77) but it will be breezy and a bit cooler with highs on Saturday topping out in the middle 70s.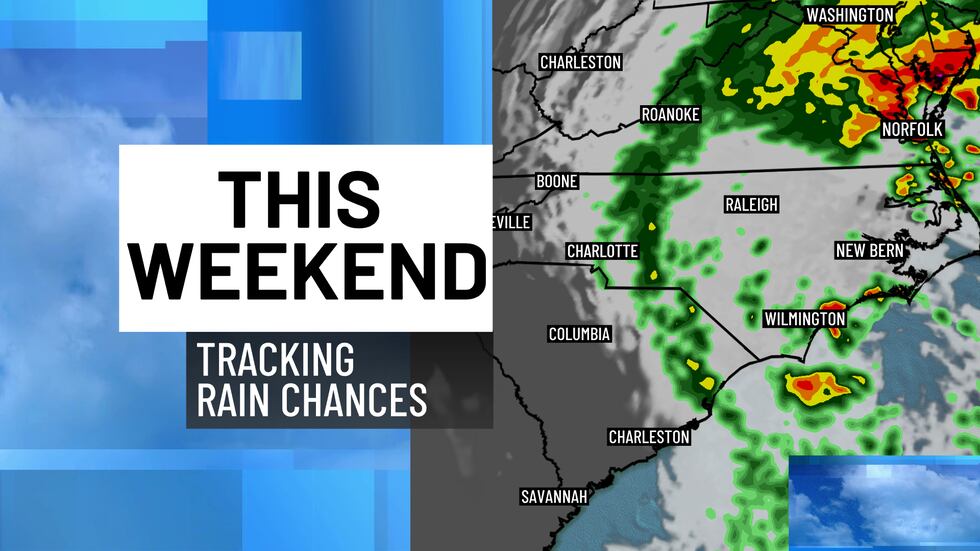 On Sunday, the rain risk will quickly lower and help push our afternoon readings back to near 80 degrees under partly sunny skies.
Download the free WBTV Weather app on your mobile device to receive weather alerts and get your latest WBTV weather forecast on the go. You can also get the latest weather forecast on Roku and Amazon Fire's WBTV app.
- Meteorologist Eric Garlick
Copyright 2023 WBTV. All rights reserved.