North Carolina QB Maye picked as favorite for his second straight ACC player of year award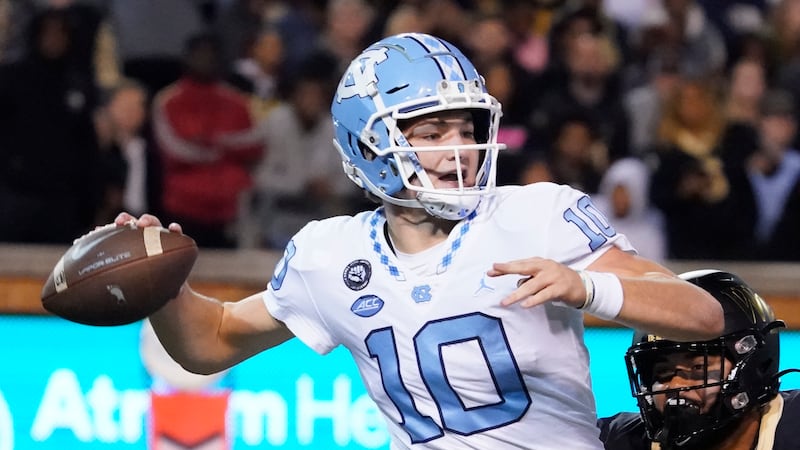 Published: Aug. 2, 2023 at 11:50 PM EDT
GREENSBORO, N.C. (AP) — North Carolina quarterback Drake Maye is the preseason pick to win his second straight Atlantic Coast Conference player of the year award.
Maye came out on top over Florida State quarterback Jordan Travis in a vote of 176 media members, the results of which were released Wednesday. Maye, who won the league's 2022 player of the year honors as a freshman, also was selected as the preseason All-ACC first-team quarterback.
Maye, who is from Huntersville, North Carolina, had 3,847 yards and 35 touchdowns passing, along with 629 yards and six TDs rushing.
He finished with 88 votes, with Travis in second with 66. Clemson tailback Will Shipley was third in preseason player voting, followed by Tigers linebacker Jeremiah Trotter Jr., and a tie for fifth between Duke quarterback Riley Leonard and Clemson defensive tackle Tyler Davis.
Clemson, picked Tuesday as the preseason favorite to win its eighth league title in the past nine years, led all teams with five players and seven spots on the 27-member All-ACC preseason team.
Shipley was voted in as the team's running back, its all-purpose player and specialist.
Florida State had four selections while North Carolina, Duke and Miami were next with three.
(Copyright 2023 The Associated Press. All rights reserved. This material may not be published, broadcast, rewritten or redistributed.)