New RV dealership/service center a "big win" for Rowan County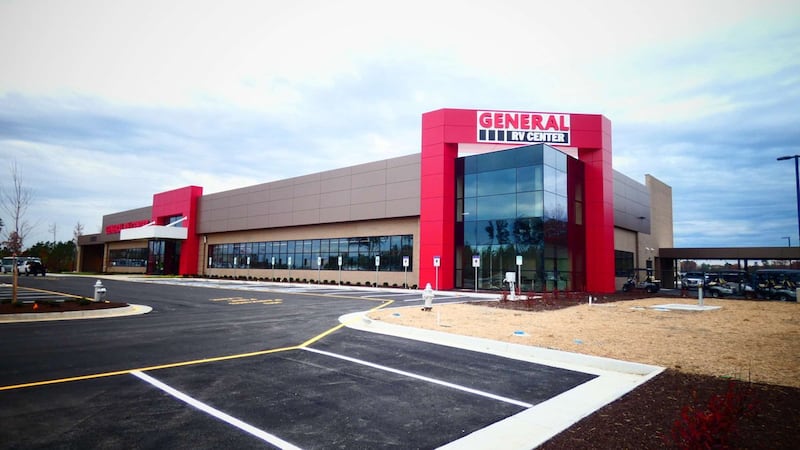 Published: Jul. 25, 2023 at 7:14 AM EDT
ROWAN COUNTY, N.C. (WBTV) - In a little more than a year, a huge RV dealership and service center will be welcoming customers right off Interstate 85 in Rowan County near Salisbury. Last week, economic development officials, county leaders, and representatives of General RV confirmed that the facility was coming to Rowan.
Scott Shelton, Vice-President of the Rowan EDC spoke with WBTV on Monday about the importance of this project.
"It really is a great thing for the county and the reason for that is you hear on the news about companies coming to a community and it's always concerns about the number of jobs, the quality of the jobs, the investment, and so what we have here is the nation's largest family-owned RV dealership coming to Rowan County," Shelton said.
General RV plans to break ground in mid-August to start construction on a 71,000-square-foot facility at the end of Ritchie Road overlooking I-85. The dealership will have over 30 service bays, including a six-bay body shop, with enough space to house 700 RVs on the lot.
"I think that shows that there is confidence in this area being able to support a business like that," Shelton added, "and find the workforce they need to fill those jobs, and they are quality jobs."
General RV will invest an estimated $25 million in Rowan County in real property improvements and equipment. Once opened, the dealership will have more than 150 full-time jobs with an average salary of $65,000. Construction and development of the site is expected to create an additional 66 indirect and induced jobs within the surrounding community.
"So you throw that in along with having customers who aren't familiar with Rowan County being in our community while their RV is getting worked on or while they're shopping for an RV and they're shopping in our stores, dining in our restaurants, so that's another way to spread the good word about Rowan County," Shelton added, "and also besides property tax you'll also see a significant sales tax boost the county."
"Being in North Carolina allows us to introduce our passion for RVing to this region of the country. Our high-quality service will provide more accessibility for our new and existing customers," said Loren Baidas, President of General RV. "We are excited to add a new home in a community that is passionate about the outdoors and embraces so many of the same family values that we do."
"Beyond the economic impact of high-paying jobs and new capital investment, General RV will draw customers from around the region, many of whom have never visited Rowan County before," said County Commission Chairman Greg Edds. "We've learned that when the typical RV owner brings their vehicle for a service appointment, they explore local shops, indulge in local eats, and even seek out local camping options, and Rowan County has popular campground facilities like Dan Nicholas Park."
The dealership is expected to open in Fall 2024. A groundbreaking for the new facility is scheduled for mid-August.
Copyright 2023 WBTV. All rights reserved.