North Stanly alum Rhett Lowder drafted 7th oveall by the Cincinnati Reds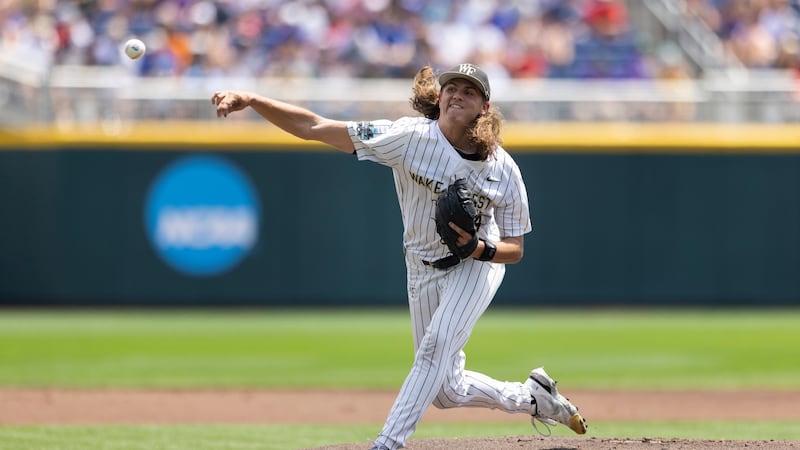 Published: Jul. 9, 2023 at 7:49 PM EDT
SEATTLE, Wa. (WBTV) - One of the best athletes to ever don the North Stanly uniform is heading to the pros.
Former Comets standout and Wake Forest star pitcher Rhett Lowder was selected with seventh overall pick by the Cincinnati Reds in Sunday night's 2023 MLB Draft.
The Reds boasted the No. 5 farm system entering the 2023 season according to MLB.com, and Lowder now joins standout prospects like Elly De La Cruz, Noelvi Marte, Matt McClain, and Spencer Steer.
Lowder ended his collegiate career as one of the most consistent and productive pitchers in the country. In 2023, he posted a 1.87 ERA (4th in the nation), a 5.96 strikeouts-to-walks ratio (12th), and a 0.95 walks + hits per inning pitched (8th) while striking out 143 batters (4th).
He holds the Wake Forest single-season records for wins (15), strikeouts (143), and win-loss ratio (15-0).
His 2023 season is arguably one of the most decorated individual seasons by a pitcher in ACC history. Lowder became just the second pitcher to win the ACC pitcher of the year award in back-to-back seasons after becoming the first Demon Deacon to ever win the award in 2022.
Lowder was also named a first-team All-American by Collegiate Baseball, Baseball America, the NCBWA and the ABCA following his 2023 campaign.
COVID shortened his senior season at North Stanly, and he finished his prep career as the No. 491 prospect in the nation and the No. 12 recruit in North Carolina according to perfect game.
As a junior, Lowder threw back-to-back no-hitters for the Comets and finished the season with a 9-0 record to go along with a 0.61 earned run average.
He committed to the Demon Deacons over offers from App State, UNC Wilmington, and Campbell.
Copyright 2023 WBTV. All rights reserved.