Groom recovering at home after SC crash that killed bride, mom says
The crash happened on April 28 in Folly Beach, S.C.
Published: May. 9, 2023 at 11:05 AM EDT
CHARLOTTE, N.C. (WBTV) – The man injured in a reported drunk driving crash in South Carolina that killed his wife just hours after their wedding reception is now recovering at home and planning her funeral, his mother said.
Annette Hutchison provided the update on a GoFundMe page she started shortly after her son Aric Hutchinson and new daughter-in-law Samantha Hutchinson were involved in the April 28 collision in Folly Beach.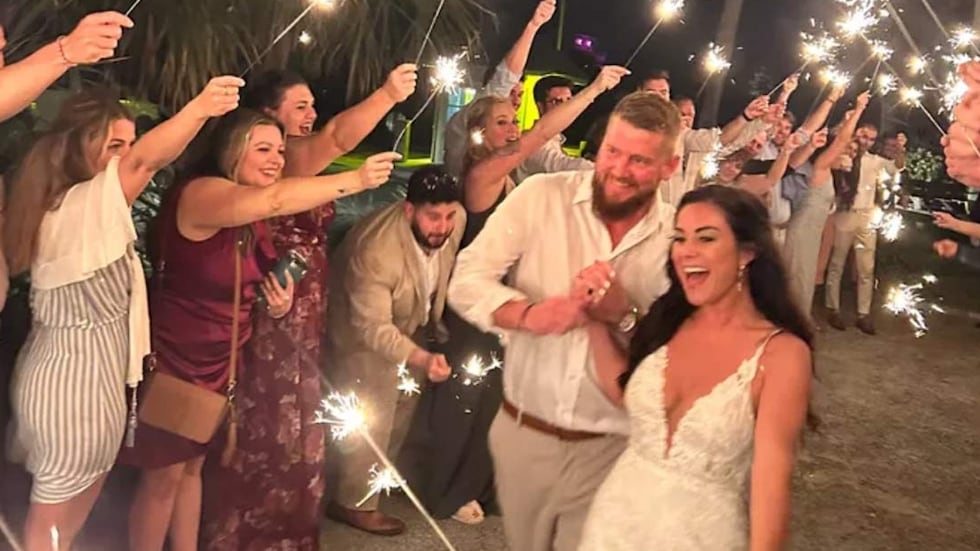 Samantha, a Charlotte native, was killed and Aric was seriously injured. Two other people were also hurt after a car crashed into the golf cart the four were riding in.
Related: Police: Drunk driver kills bride, injures groom hours after SC wedding
According to Annette Hutchinson, Aric suffered two broken legs, one of which had to be surgically repaired, and broken bones in his face that also required surgery to fix.
Additionally, Aric had broken vertebrae in his back, brain bleeds and numerous cuts with stitches, the update stated.
"He is physically recovering at home while trying to come to terms with the loss of his beautiful wife," Annette Hutchinson posted. "Now he is doing the unimaginable of planning Sam's funeral along with her family."
Annette Hutchinson's son-in-law, also hurt in the collision, is recovering in the burn unit after undergoing surgery to clean out and redress his "severe road rash and open wounds," according to the update.
Her 17-year-old grandson only had minor injuries.
"We truly believe a guardian angel was with him that night," Annette Hutchinson wrote. "Our hope is that with love and support he can get through the trauma of having been involved in this horrific accident at 17."
The GoFundMe page was started to help pay for Samantha Hutchinson's burial and medical costs for Aric. The goal was to raise $100,000. By Tuesday morning, that amount was a little under $700,000.
"While our hearts are broken along with the Millers, we never could have imagined how sharing our story would result in the tremendous outpouring of love, support, and overwhelming generosity we have received from friends, family, co-workers, and strangers," the update read in part.
Samantha's sister also started a GoFundMe page to help pay for funeral costs as well.
Following the crash, Jamie Komoroski, 25, was arrested and charged with three counts of felony driving under the influence resulting in great bodily injury and/or death, and reckless homicide.
Related: Affidavit: Driver needed help standing after DUI crash that killed bride
She was allegedly going 65 miles per hour on a road where the limit is 25 to 30 mph.
Copyright 2023 WBTV. All rights reserved.