Sheriff on Robeson County triple homicide victims: 'We've basically taken away a family'
Published: Jan. 24, 2023 at 4:56 PM EST
|
Updated: Jan. 25, 2023 at 6:19 PM EST
ROBESON COUNTY, N.C. (WMBF) - Three people are dead and a fourth is in the hospital after a shooting Tuesday afternoon just outside Red Springs.
Robeson County Sheriff Burnis Wilkins confirmed detectives were called at 2:46 p.m. to the scene in the 100 block of Samuel Williams Drive where they found three people dead. A fourth was taken to the hospital.
When deputies arrived on the scene they received information from witnesses on the scene that 46-year-old Corey Grant Leak had left the scene. The Robeson County Sheriff's Office dispatched its SWAT team and also called the North Carolina Highway Patrol for help in the search.
The sheriff's office received a call from a citizen who spotted Leak riding on a moped along Highway 71 just outside of Maxton. Wilkins said detectives spotted him and they were able to surround him and take him into custody around 4:30 p.m. Tuesday.
He is charged with murder in the first degree, attempted murder, aggravated assault with intent to kill and possession of a firearm by a felon. The sheriff said that more charges could be forthcoming and that Leak is being held under no bond.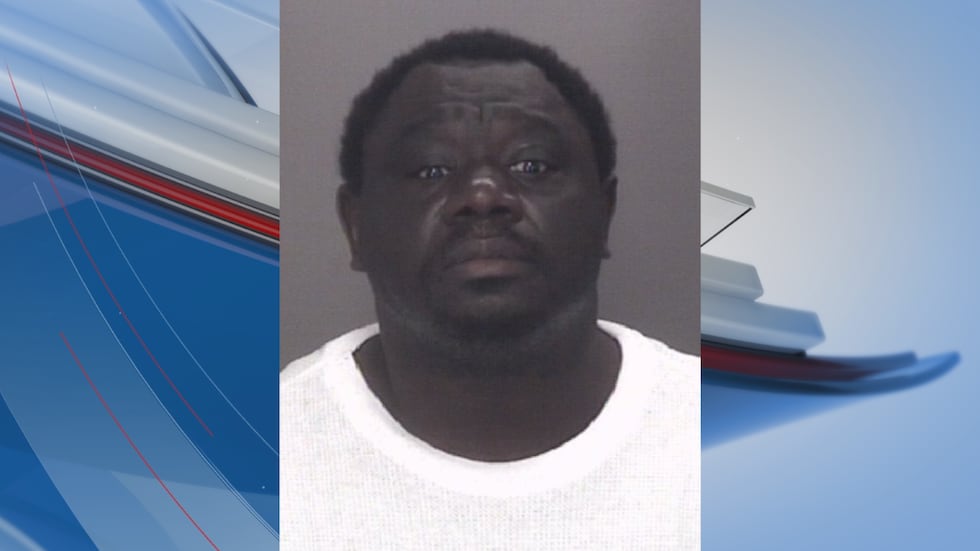 During a news conference, Wilkins held up four pictures of the victims.
He said that Leak had been living with 71-year-old Equilla Biggs who is believed to be Leak's cousin. Biggs is currently at the hospital where she is being treated for multiple gunshot wounds but is expected to be OK, according to the sheriff.
Wilkins said Biggs, "allowed the suspect... to live at her home to keep him from being homeless."
He added that the 71-year-old mother and grandmother lost two of her children in the shooting.
WATCH THE FULL PRESS CONFERENCE BELOW:
Wilkins identified them as 51-year-old Donald Williams and 34-year-old Sierra Wherry.
The sheriff said that Williams and Wherry were shot multiple times and added that Williams even tried to escape from the suspect
The third homicide victim was identified as 45-year-old James Beauregard who was described as a lifelong friend of the Biggs, Williams, Wherry and the suspect.
"We've lost basically a family and friends in the small community of Red Springs... these folks were very well known in their area and very well-respected there," Wilkins said.
When asked about a motive behind the shootings, Wilkins said their investigation has found it may have happened because of some missing money and there was an argument over who had taken Leak's money.
Wilkins said Leak was out on parole at the time of the shooting. He was convicted on murder charges on July 12, 1996, and was sentenced to life but released from prison in October 2020. He is on active parole until 2025.
"This is yet another example of a convicted felon that's walking our streets, and when you do that those pictures you've just seen is what happens and that's what disturbs me about this whole situation," Wilkins said. "Had this guy been locked like he should have been, none of this would have occurred. If that guy would shoot his own family members, imagine what he would do to you and I?"
Wilkins added that in his 42 years of law enforcement, it's disheartening to see people convicted of murder back out on the street.
"Early in my career I could remember a time you would not see murder suspects walking the streets," Wilkins said. "I don't know what it's going to take, law enforcement constantly catches that blame but it's not our fault. We're doing our part. Once that person is presented to a magistrate and they're locked up in that detention center, we're done that's it for us, we have no control."
The sheriff said the investigation is ongoing. Anyone with information is asked to call Robeson County Sheriff's Office at 910-671-3100 or 910-671-3170.
Stay with WMBF News for updates.
Copyright 2023 WMBF. All rights reserved.