Tracking Ian: Storm downgraded to post-tropical cyclone as it moves further into the Carolinas
Ian officially made landfall in the Carolinas near Georgetown, S.C., just after 2 p.m. on Friday.
Published: Sep. 24, 2022 at 8:13 PM EDT
|
Updated: Sep. 30, 2022 at 11:50 AM EDT
CHARLOTTE, N.C. (WBTV) - Tropical Storm Warnings have been canceled for the Charlotte-Metro area as Post-Tropical Cyclone Ian continues heading north.
As of 11:30 p.m. Friday, Post-Tropical Cyclone Ian has winds of 50 mph and is moving to the north at 15 mph.
By 8 am Saturday, the center of circulation should be closer to the NC/VA state line.
Ian officially made landfall near Georgetown, S.C., at 2:05 p.m. on Friday as a Category 1 hurricane, with sustained winds of 85 mph.
For the Carolinas, we can expect the heaviest rain and highest wind gusts for Friday afternoon into Friday night, with diminishing rain by Saturday morning. Rainfall totals of three to six inches are possible in the WBTV viewing area, with wind gusts of 50+ mph possible.
Ian will move east of Charlotte on Friday night, and will be around the I-40 corridor around 8 a.m. Saturday, with winds decreasing to 35 mph.
Scattered rain showers will still be possible in the Carolinas for Saturday and Sunday.
The center of Ian will linger over the region for Sunday and Monday, rotating showers through the WBTV viewing area at times.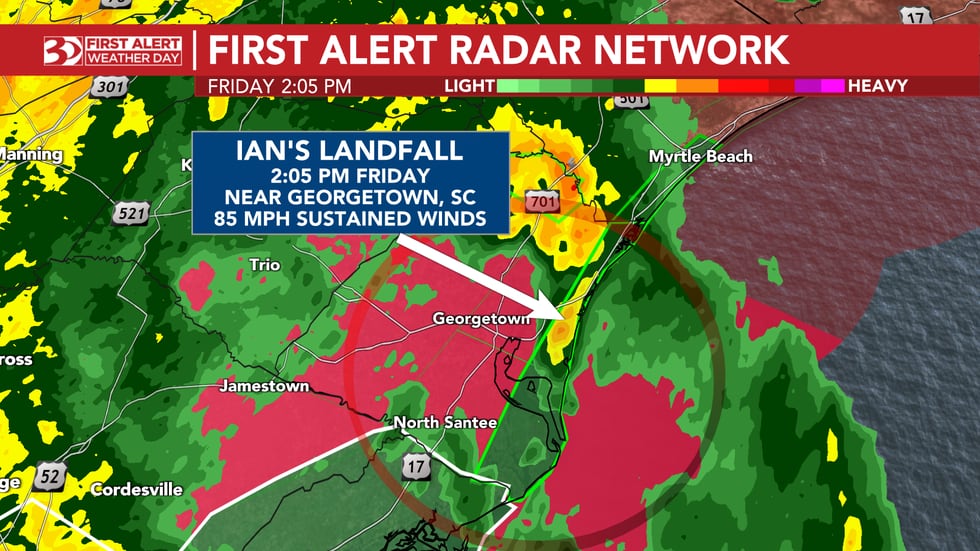 A Flood Watch is also in effect for most of the viewing area, except for Watauga and Ashe County.
Hurricane Ian officially made its first landfall at 3:05 p.m. Wednesday, at Cayo Costa, Fla., near Fort Myers and Cape Coral, Fla., as a Category 4 hurricane, with winds of 150 mph.
A Flood Watch has been put in place for Avery, Alexander, Iredell, Catawba, Rowan, Lincoln, Gaston, Mecklenburg, Cabarrus, Union, Caldwell, and Burke counties in N.C. until 12 p.m. on Saturday, Oct. 1.
A Flood Watch has been put in place for York and Chester counties in S.C. until 12 p.m. on Saturday, Oct. 1.
Download the free WBTV Weather app on your mobile device, to receive weather alerts, check radar, see updated tropical tracks, and get your latest WBTV weather forecast on the go. You can also get the latest weather forecast on Roku and Amazon Fire's WBTV app.
Make sure to stay updated with the latest track on Hurricane Ian this week!
We have a full list of closings and cancellations due to Ian.
Copyright 2022 WBTV. All rights reserved.