'I just couldn't be prouder': Chancellor Lee Adams beats the odds, set to graduate from Vance High School
Updated: Jun. 1, 2021 at 8:02 PM EDT
CHARLOTTE, N.C. (WBTV) - Chancellor Lee Adams wears with pride a royal blue cap and gown, and with each move, he makes a dress rehearsal leading to one of life's big steps.
On Saturday, Adams, who was considered to be a "Miracle" child, will achieve a meaningful milestone.
He's graduating from Charlotte's Vance High School.
His grandmother, and caregiver, Saundra Adams has been there every step of the way.
"I have seen Chancellor's determination, how he persists through things, his resilience and overcoming so many of the odds," Saundra Adams told WBTV's Steve Crump.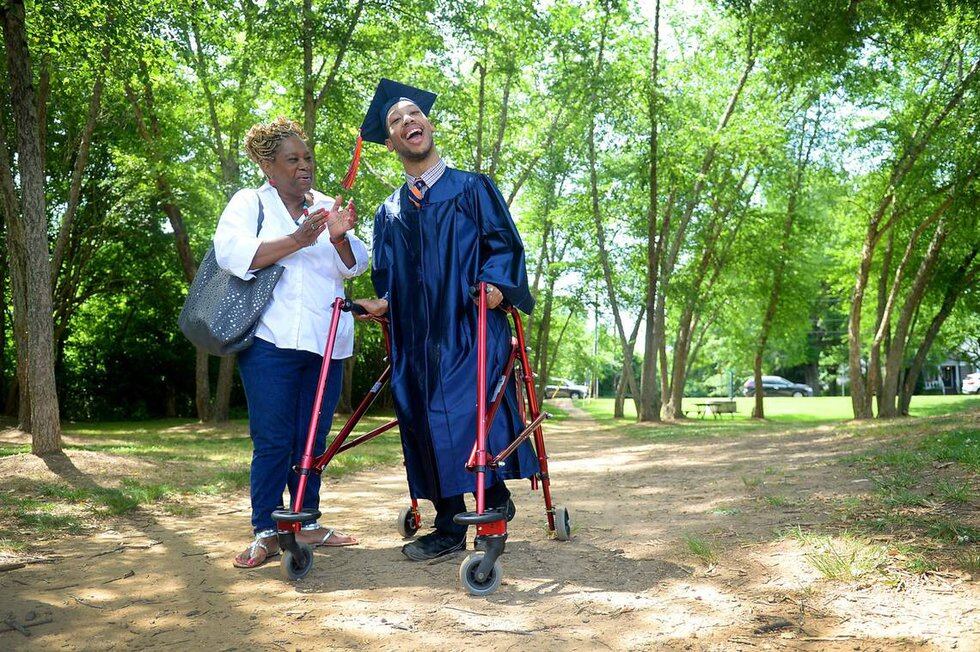 Beating tough odds meant being born with cerebral palsy on the same night his pregnant mother Cherica Adams was fatally shot back in 1999.
Chancellor's father, former Carolina Panther Rae Carruth, was convicted of hiring a hitman to follow and kill Cherica Adams in south Charlotte.
She held on long enough to save her son's life.
WBTV has followed Chancellor Lee Adams' progress over the years by watching him move around in a wheelchair and develop a connection with four-legged animals by riding horses.
"I just couldn't be prouder because Chancellor Lee has really earned all the accolades and credits that he's receiving," Saundra Adams said. "He really put in a lot of the hard work."
Chancellor and Saundra Adams said Cherica Adams is somewhere looking down and smiling at her son's accomplishments.
"Cherica is upstairs, upstairs. They're in heaven, singing, getting all the angels together, probably cutting cartwheels," Saundra Adams said. "And she's telling everybody, that's my, that's my boy right there. That's my boy right there."
But what about his father?
Carruth is now free.
The convicted felon, according to prosecutors, arranged to have Chancellor's mother pregnant Cherica Adams killed to get out of paying child support.
Saundra Adams says she is hopeful Carruth will reach out.
"With the announcement on social media that Chancellor Lee is graduating, I hope that will also spark some pride in Ray Carruth," said Saundra Adams. "And he'll be excited about his son's accomplishments because he truly has, um, just, just done a phenomenal job with getting to this milestone."
The journey of Chancellor and his grandmother has engaged the community through the importance of them sharing forgiveness with local jail inmates to remembering the lives lost at gatherings sponsored by Mothers of Murdered Offspring.
With all that Chancellor Lee Adams has been through, he will be graduating with the rest of his classmates this weekend.
Copyright 2021 WBTV. All rights reserved.