Anne-Marie Baccus selected as Rowan-Cabarrus Community College Work-Based Learning Student of the Year
Program helps prepare students for careers through hands-on experience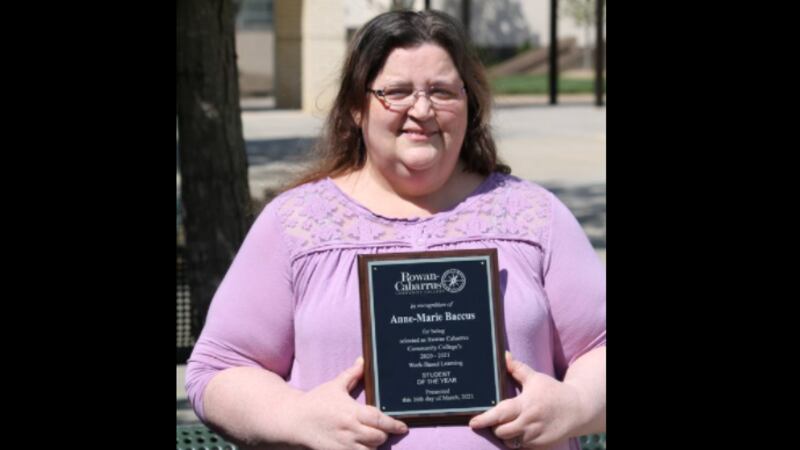 Published: May. 25, 2021 at 11:34 AM EDT
ROWAN COUNTY, N.C. (WBTV) - Rowan-Cabarrus Community College student Anne-Marie Baccus has been selected as the College's 2020-2021 Work-Based Learning Student of the Year for exceptional internship performance.
Baccus returned to college to begin a new career and is enrolled in the Associate in Applied Science program in Business Administration and Human Resources Management. She has interned with the Human Resources department at Rowan-Cabarrus for three semesters.
"These internships allow students to explore careers and increase their marketability after graduation," said Tena Pair, Rowan-Cabarrus Work-Based Learning internship developer. "Students can increase their self-confidence and develop skills that build their resume, and some are even hired permanently by the companies where they intern."
The College's Work-Based Learning program integrates classroom instruction with real-work experience, and students are able to earn academic credit while learning to perform relevant duties in their field of interest.
"An internship can be a great tool to reach your career goals and help you decide if your major is what you really want to pursue when you graduate," Baccus said. "I've seen how just how important teamwork is in human resources, and everyone I've worked with has been helpful. No question I asked was dumb, and they made me feel like a part of the team. I'm a little sad that I can't stay."
Baccus plans to pursue a career in human resources with a local company once she completes her degree at Rowan-Cabarrus.
"Anne-Marie Baccus is a motivated student who gives her all, and she is very deserving of this award," said Dr. Carol S. Spalding, president of Rowan-Cabarrus Community College. "She is a great example of the success that students can achieve from participating in internships, and I know she will go on to find success."
For more information about the Rowan-Cabarrus Work-Based Learning program, please visit www.rccc.edu/workbasedlearning. For more information about Rowan-Cabarrus Community College, please visit www.rccc.edu or call 704-216-RCCC (7222).
Copyright 2021 WBTV. All rights reserved.