Murder suspect in custody after week-long manhunt in S.C.
Updated: May. 24, 2021 at 11:16 PM EDT
CHESTER COUNTY, S.C. (WBTV) - A murder suspect who has been at the center of a week-long manhunt in Chester County, South Carolina is in custody.
Tyler Terry, 26, has been on the run since last Monday, May 17. He was taken into custody Monday, May 24, on day 7 of an intense manhunt. Deputies say Terry was homeless and had been living in the woods, explaining how he was able to avoid capture for so long.
Terry is accused of multiple murders, including at least two in South Carolina, and two in St. Louis, Missouri. Adrienne Simpson, wife of victim Eugene Simpson, is also in custody in connection to the cases and for the chase that began the manhunt in S.C.
Chester County Sheriff Max Dorsey held a press conference shortly after Terry's capture:
Dorsey said that Sunday was "the break we were looking for" when law enforcement learned Terry was seen running across Hwy 9 from Lincoln Road. From that point, Dorsey said, they knew the area Terry was in. As the sun went down, a perimeter was created and a plan was developed that included hundreds of law enforcement personnel dividing into "push teams" to flush Terry out.
The sheriff said Terry was found lying on the ground in an area of "high weeds" and taken in by ATF agents. He was unarmed at the time and didn't have a phone, but Dorsey said a firearm was found nearby "within the proximity of his person."
Chester County deputies say everyone, including Terry, is now safe. No shots were fired during his arrest.
"I want to thank the community for their patience," Dorsey said. "I know there's been a lot of high anxiety, frustration, maybe even doubt we were going to come through... I hope this has validated to the community what our commitment is." He added that the capture wouldn't have happened without the public's help.
Dorsey said tracking Terry was difficult due to the canopy of trees making searching overhead difficult, dry conditions making it hard to track and the that the heat made it hard on their dogs who were helping with the search.
The Chester County community came out to show their support for law enforcement following Terry's arrest on Monday. They say they are relieved to know the murder suspect is no longer on the loose.
Terry was taken to the Chester County Detention Center where he'll be quarantined 10 to 12 days, per COVID-19 protocol. "He'll be taken care of just like all the other men and women at our detention facility," Dorsey said.
WBTV was there as Terry was walked from the sheriff's office to the county lockup:
Dorsey said Terry will be charged in S.C. first, adding, "We've got a lot of work to do." Terry is charged with six counts of attempted murder, one count of murder and one count of possession of a weapon during a violent crime.
According to KMOV, Terry and Simpson face more than a dozen charges, including two counts of murder, in St. Louis.
Terry's was denied bond during a hearing on Tuesday, May 25, at the Chester County Courthouse.
Saturday, May 15:
The investigation began before Tyler Terry had been identified as a suspect in multiple shootings, one fatal, in the St. Louis area.
Police believe Terry, and Adrienne Simpson, the woman Terry is believed to have been traveling with, are responsible for two separate shootings that happened in St. Louis.
The first shooting happened shortly before 11 p.m. on Delmar Blvd. in the University City area of St. Louis. Police said Terry and Simpson shot two people sitting in a vehicle, 70-year-old Barbara Goodkin and her husband, Stanley. While Stanley Goodkin survived, Barbara was killed.
Monday, May 17:
Deputies attempted to pull over a suspicious vehicle around 11 p.m. in the parking lot of a closed Bojangles' on Edgeland Road at Highway 9 in Richburg. A chase began when the car failed to stop. The chase lasted between 20 and 30 miles.
The chase traveled from Highway 9 into Chester and from Highway 72 into York County, then down Highway 901 and back into Chester County. The car later crashed on Highway 9 between Sloan Road and Lewisville High School.
Officials say Terry, the passenger, fired multiple shots at deputies and fled the scene. Photos shared by the sheriff from the chase show a bullet hole in a deputy's vehicle.
The driver of the vehicle, identified by deputies as Adrienne Simpson, was arrested.
Tuesday, May 18:
Deputies say Terry is now a person of interest in the killing of 35-year-old Thomas Hardin in York. Hardin was found dead on May 2.
Officials say Terry should be considered "armed and extremely dangerous."
Chester County Schools were put on a two-hour delay as the manhunt continued for Terry.
Residents in the area were asked to stay in their homes, lock their doors and contact authorities if they saw Terry or any suspicious activity.
Wednesday, May 19:
A body was found in a ditch off Stroud Road near Old Richburg Road in Great Falls. The body would later be identified as Adrienne Simpson's husband, Eugene Simpson.
A theft was reported at Carolina Earth Movers in Fort Lawn and deputies believe Tyler Terry was there. Chester County Sheriff say they now know Terry is armed, based on surveillance footage.
Six schools, including at least two schools in Rock Hill, were also placed on lockdown. Lewisville Schools within Chester County Schools were placed on lockdown status.
Thursday, May 20:
Deputies confirmed the body found Wednesday was Eugene Simpson, Adrienne Simpson's husband. He had been reported missing in early May.
Carol DeWitt, Adrienne Simpson's mother, said her daughter and Eugene had been separated for several years, but remained friends. She also said her daughter started dating Tyler Terry in 2018.
There was a confirmed sighting of Terry between the area of Fishing Creek on Hwy 9 and the ATI, deputies said.
Extra deputies were placed in the Lesslie and Catawba area for school drop off.
Friday, May 21:
Friday, deputies said they "more than doubled" their manpower in the search for Terry and were expanding the search perimeter beyond fishing creek and closer to Fort Lawn.
Deputies expanded the search perimeter beyond fishing creek and closer to Fort Lawn, where Terry is accused in a recent theft.
The Chester County Sheriff's Office says they have more than doubled their manpower and are receiving additional assistance from the FBI.
Saturday, May 24:
Dorsey said his law enforcement officers have no information that makes them believe Terry has left their "perimeter" or that someone is helping him.
"We're going to be here until we have evidence that leads us somewhere else," Dorsey said.
The sheriff said there are more than 100 people helping with the search, and that drones, dogs, helicopters and other resources are being used.
The hunt caused MUSC Health - Lancaster Medical Center to go on lockdown Saturday night through early Sunday morning "out of an abundance of caution."
Sunday, May 23:
Terry was located by searchers off of Ligon Road around 2:40 p.m. The Chester County Sheriff's Office says they are after the suspect in the Highway 9 and Richburg Road area in Chester County.
Just before 10 p.m. Sunday, the Chester County Sheriff's Office said there were about 200 officers at the perimeter in the area of interest. Deputies say they're hoping to push Terry to one side of the perimeter and "make some moves."
Monday, May 24:
Tyler Terry was arrested on Monday after the week-long manhunt. He was booked into the Chester County Detention Center.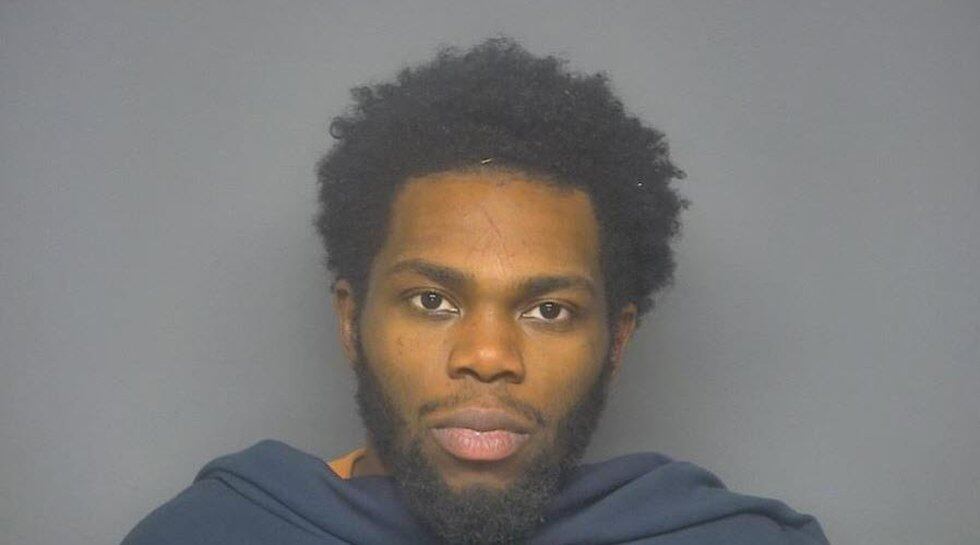 More than 300 law enforcement officers from surrounding areas initiated aggressive search operations for Terry in a concentrated area near S.C. Highway 9 and 99. Traffic between Beaver Dam Road and S.C. Highway 9 on Richburg Road was blocked.
For the week before his capture, deputies said Terry was "armed and extremely dangerous" and should not be approached by the public. He was last seen wearing all black with no shoes, according to deputies.
A look at Tyler Terry's past gives people a better glimpse of why law enforcement is calling him so dangerous.
"He's as violent of a person as I've ever encountered," says Sheriff Max Dorsey of Chester County Sheriff's Office.
Those words coming from a sheriff who has been in this business for over 20 years. This comes after at least four alleged murders, seven more alleged attempted murders and several gun charges.
For Dorsey, the danger started the second he says his deputies were shot at.
"All of those deputies escaped injury or death by the skin of their teeth," says Dorsey. "It doesn't get anymore revealing about how dangerous someone is than that incident."
Looking through Terry's criminal history could reveal it though. Not just in South Carolina, but in North Carolina as well.
In 2019, deputies arrested Terry for assaulting Adrienne Simpson. The arrest report details a violent attack - that Terry hit Simpson in the back with a machete and punched her several times.
A little over a year ago, Chester County deputies arrested Terry for first-degree domestic violence. Terry is accused of hitting Simpson so hard she lost hearing in her right ear and her eye was swollen shut.
Just a month before the manhunt began, Myrtle Beach Police arrested Terry for third-degree domestic violence when Simpson told police Terry broke her phone and injured her hand.
"This is a dangerous person who we know is armed," Sheriff Dorsey said before Terry's arrest. "We're focusing all of our resources to catch him."
Deputies were encouraging people in those areas to pay attention to barns, crawl spaces under homes and outbuildings.
"Do not check these places yourself, but be aware of any unusual activity in these areas," the Chester County Sheriff's Office said. "Any suspicious noises or activities should be reported to our tip line (888-274-6372) or 877-409-4321."
Law enforcement agencies continuously conducted welfare checks on residences and businesses through the search for Terry.
Additionally, the Chester County Sheriff's Office asked residents to call their tip line if they had any deer cameras in or around the area officers were searching.
"Do not retrieve them yourselves. We will send someone to your address to take care of that," the sheriff's office said.
WBTV's security analyst Karl de la Guerra says it's not unusual to see law enforcement from the local, state, and national levels come together for an extensive search like this one.
"Each hour that this goes on, each day that this continues that perimeter has to expand further and further taking into consideration that individual's capability to move. It's a 360-degree world so at this time we can take a calculated guess as to which way he's going," de la Guerra said.
The analyst says a manhunt of any duration is exhausting and can take a toll on deputies.
"That can be very taxing on you as an individual especially when you have to go back day after day after day and maintain that level of vigilance that you need in public safety," de la Guerra said.
Copyright 2021 WBTV. The Associated Press contributed to this story. All rights reserved.