Carolina Camera: Talking turkey with Lewis Stowe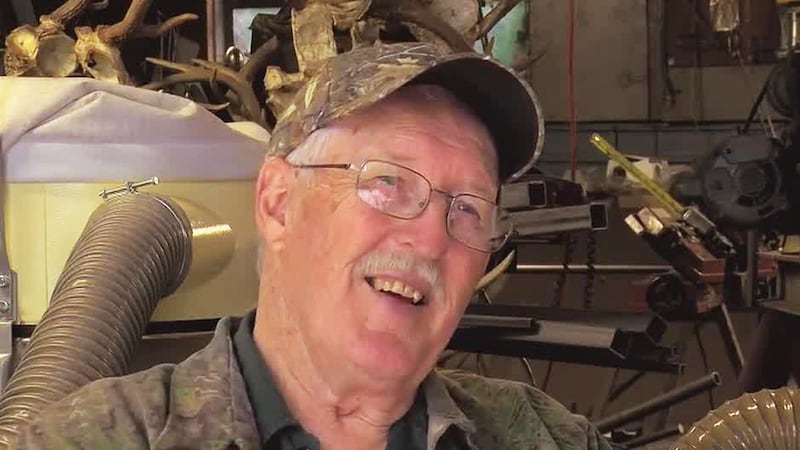 Published: May. 20, 2021 at 8:41 PM EDT
You may not recognize his name, but Lewis Stowe is famous around the world.
Not only for his turkey talk, but his turkey trumpet.
Let's go to Belmont.
You are listening to the turkey calls that earned Lewis Stowe not one, but TWO World Championships.
"How do you learn turkey sounds? Best way is by listening to turkeys!"
Mr. Stowe has been a hunter all his life, and he learned to "talk turkey" at an early age, living not far from a turkey farm where he'd hang out and just listen.
"And just like you and me talking, I communicate directly to you and that's the way it is with turkeys. You talk to a specific turkey and tell them a specific thing. Not just a random getting out there and sounding like a turkey. Be specific in what you're saying and say it in a way that demands respect and authority. If you're saying come here, put emphasis on come here!"
And that's how you bag a turkey!
Mr. Stowe is owner and operator of Precision Electronic Balancing Company in Belmont, which he operates out of this small shop.
This is also where he makes what may be the most coveted turkey call in the hunting world.
They're called trumpets, which is easy to see why since they look like miniature trumpets.
Mr. Stowe started making calls years ago when they weren't so readily available and he was having trouble finding them, so he decided to make them himself.
"And when I started out, really getting serious about the trumpet, I wanted to be as good as anybody could be and make a good call as anybody as ever made."
And boy did he ever. He sold a few to friends. One thing led to another and before long, orders started pouring in.
Each trumpet is entirely hand made out of various exotic woods, carefully chosen for their quality.
And the quality isn't just in the wood; it's also in the sound.
"A lot of the woods, are what you call, sound woods. Sort of like they make the guitars and such out of. Supposedly have a better uh, tonal qualities."
But you don't actually "play" these the same as you would an actual trumpet.
"Instead of blowing like you do with a trumpet, you're actually sucking in. It's more of a kissing type thing."
Mr. Stowe has sold his trumpets to folks around the world.
He signs each one.
And they are such works of art that many people buy them just to display and never use them out in the field.
But no matter what other folks use them for, Mr. Stowe uses them for their basic purpose–attracting turkeys in a language they understand.
"Right, that's the number one thing, is satisfying the turkey. If he isn't pleased he isn't gonna come. And you've got to satisfy him. I used to say, you know, call and you say, come over here big boy and I'll give you something like you ain't never had before. He comes over there and you give it to him, you shoot him."
Now I told you earlier Mr. Stowe has sold his calls to folks around the world and in every state in the United States, except Alaska.
I thought that was curious: Why not Alaska?
And he said the answer was simple–there are no turkeys in Alaska!
Now, if you are interested in ordering a trumpet from Mr. Stowe, he'd be happy to hear from you.
But just be aware–there are about a hundred orders ahead of you right now, so if you're in a hurry to get one, be prepared to wait a bit.