Twenty years after his death, the legacy of 'The Intimidator" lives on
Dale Earnhardt continues to influence students and create a safer environment for racers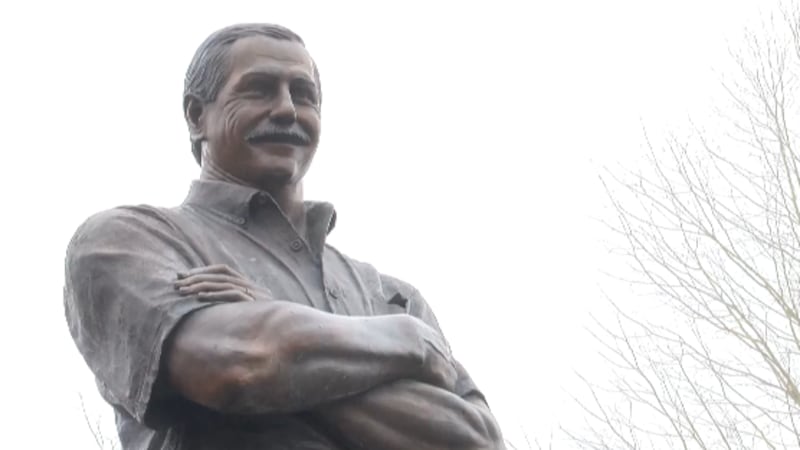 Updated: Feb. 18, 2021 at 4:29 PM EST
CHARLOTTE, N.C. (WBTV) - Twenty years ago today NASCAR legend and Kannapolis native Dale Earnhardt lost his life while competing in the 2001 Daytona 500. All these years later, the influence of "The Intimidator" is still strongly felt in the classroom and on the race track
"To think it was 20 years ago that all of that took place," said NASCAR Hall of Famer Dale Jarrett. "It was a day that changed the face and the scope of the NASCAR world."
Just days before Dale Earnhardt lost his life, he wanted to talk to Dale Jarrett about the HANS device. Jarrett had just started using the new head and neck restraint.
"One of the questions that at the time didn't seem that big, but a few days later it came back to me quickly, as we were talking about why I was wearing it and why people should wear it, he asked me, looked me straight in the face and said 'well are you wearing it because you're afraid of dying' and I said 'no, you know we're competitors and race drivers, that doesn't enter my mind…I wear it because I think about can it give me a better chance in a bad situation'" Jarrett recalled. "As a driver I worried less about dying than I worried about having something happen that would paralyze me or something because I didn't want to be in that situation."
Earnhardt listened attentively, Jarrett said, but ultimately decided against wearing the device.
"He just said I can't do it, it restricts me too much," Jarrett said. "I'm not saying that it would have saved his life, but we had just lost a couple of young men, Adam Petty, Kenny Irwin, in accidents that looked like they should have just been accidents."
After the fatal crash, the HANS device was widely used and was just one of the first in a series of improvements aimed at protecting the driver.
"I'd never ever seen anything where everyone was willing to spend their time, money, efforts, on making this a safer sport," Jarrett added. "So many things moving forward got put on a fast track, if you will."
1990 Daytona 500 winner Derrike Cope explained some of the other changes that he believes were a direct result of the Earnhardt crash
"They put foam in a paper bag like a plastic bag and he (the driver) sits down in it and they contour it around him," Cope said. "There are vents back there, the seatbelts that are in there, there are different mounting points they have for the seat. It's a complete cocoon for his helmet to eliminate the amount of side to side movement, and with the HANS device you can't get too much stretching or moving inside."
Jarrett says those changes, along with moving the seat more to the center of the car and the use of SAFER barriers have undoubtedly saved lives. He mentions Ryan Newman's horrible Daytona crash from 2020 as an example. And while some of these safety improvements were in the works prior to Earnhardt's death, it was that moment that gave safety the urgency that was required.
"When you all of sudden realize that your superstar, your face of the sport, your superman could be the one taken then something needs to be done wo we all went to work in a big way," Jarrett said, "There's so few things you can ever say from someone's death that some good came from it, but Dale Earnhardt to this day, 20 years later, is still touching the sport in a way that it always makes us think."
But Earnhardt's legacy when it comes to racing safety isn't the only influence he left that is still felt today. His work continues to benefit students in the Kannapolis City Schools.
"I remember it like it was yesterday. I was with my grandparents and my dad, we were watching the race and that wreck happened and we immediately just had a sickening feeling," said Kannapolis native and City Council member Ryan Dayvault. "It was just a bad situation and I'll never forget that."
Long before Goodwrench or Wrangler adorned the side of Dale Earnhardt's race car, there was the name Dayvault.
"Through family helping family is basically how it came about," Dayvault recalled. "His car needed to be maintained and painted, being his first car, brother-in-law David Oliver had that car before Dale started driving it."
"Dale wanted to drive and David put him in it and my family was able to keep the car maintained and painted it pink because they didn't have any money to paint it the proper colors and all this stuff, so that's what they had left and Cathy, his sister, liked that color and it was painted ink with a purple top and that was the first car that he ever ran in."
"They joked about his first car being pink, even though he was the Intimidator, it was very ironic that he started in a pink car."
Dale Earnhardt was Ryan Dayvault's childhood hero, and twenty years after his tragic death, Earnhardt continues to inspire him.
"His impact on the Kannapolis Education Foundation," Dayvault said. "He started that program in the Kannapolis School System here to support kids and get technology in the schools…he started that back in '93. So that has continued to be a great program to help our school system. He wasn't an A.L. Brown graduate because he didn't finish school, but he believed in the importance of education, he didn't want people to do what he did, he wanted kids to continue on in school and get their diploma."
"KEF is a foundation that funds technology projects in the district for individual schools or across grade spans. They've funded robotics programs, they've funded other stem activities, iPad programs," said Kannapolis City Schools Superintendent Dr. Chip Buckwell.
The KEF started with a $30,000 investment from Dale Earnhardt and the Dale Earnhardt Foundation. Years later, Dale Earnhardt, Jr., and the Earnhardt family still support the work in Kannapolis schools. And to lifelong fans, and now city leaders, like Ryan Dayvault, that example is what continues to inspire.
"It's a reminder of how great this town is and this is one of their native sons who went off and did good and he was very proud to be from here," Dayvault said. "People from this town can be whatever they want to be, you have potential and you can fight your way to the top like he did."
Copyright 2021 WBTV. All rights reserved.