Schools in WBTV viewing area issue delays, opt for virtual learning due to flooding concerns
Updated: Nov. 12, 2020 at 6:33 AM EST
CALDWELL COUNTY, N.C. (WBTV) - Flooding concerns forced a schools to delay class or opt for virtual learning Thursday.
Caldwell County Schools and Burke County Schools issued a two-hour delay. Hickory Public Schools, Catawba Schools and Alexander County Schools opted for virtual learning.
Caldwell County Schools tweeted around 6:15 a.m., "Due to hazardous weather conditions, mudslides, and flash flooding, in the area, the Caldwell County Schools will operate on a 2-Hour Delay."
Alexander County Schools said they will have a virtual learning day Thursday due to flooding and dangerous road conditions. "Students will not report to school buildings," Alexander County Schools tweeted. "The delayed opening (10 a.m.) will remain in effect for all staff choosing to report to buildings."
The Burke County Schools superintendent says the district will be operating on a two-hour delay for students and staff due to localized flooding and downed trees.
Hickory Public Schools says Thursday will be a remote learning day for students and staff due to flash flooding.
Catawba Schools will be a remote learning day for students and staff. "We have hazardous road conditions, flash flooding, and power outages now being reported across our county," district officials wrote. "Our goal is for teachers to post assignments by 9:30 AM and students are expected to complete their assignments."
Catawba County Schools staff unable to telework Thursday will be operating on a 3-hour delay. QUEST will also be closed due to power outages.
CLICK HERE FOR A LIST OF SCHOOL DELAYS
This second-straight day of wet weather could produce additional rainfall amounts up to three inches, potentially resulting in rapid rises on streams and creeks. Therefore, a Flash Flood Watch remains in effect through Thursday evening for the entire WBTV viewing area.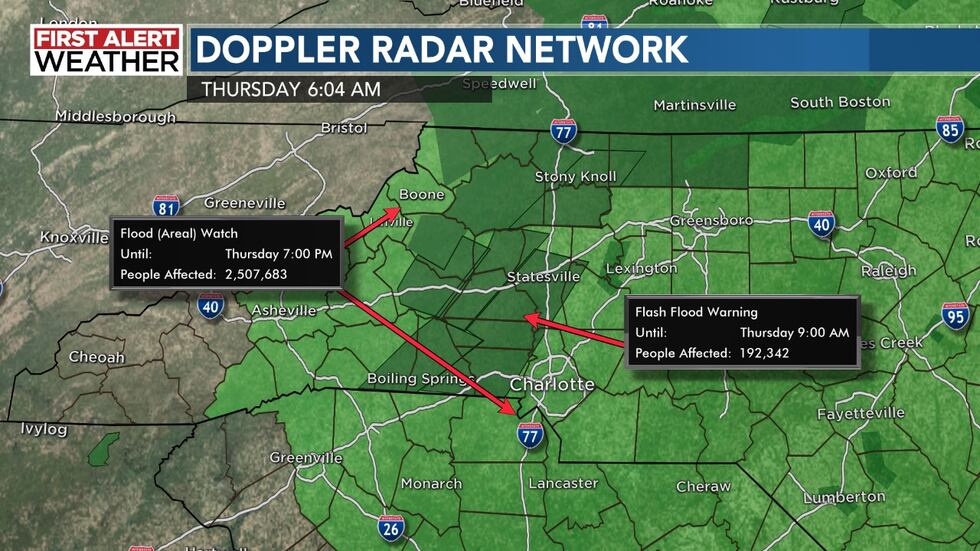 Several flash flood warnings and flood warnings have been issued for counties west of I-77. Remember to turn around, don`t drown when encountering flooded roads.
Drier conditions will take over the area from west to east by Thursday afternoon.
Watch WBTV's Thursday morning weather coverage below
Receive updates for severe weather in your area - Click here to download the WBTV Weather App
Copyright 2020 WBTV. All rights reserved.