Panthers' RB Christian McCaffrey designated for return, weeks after ankle injury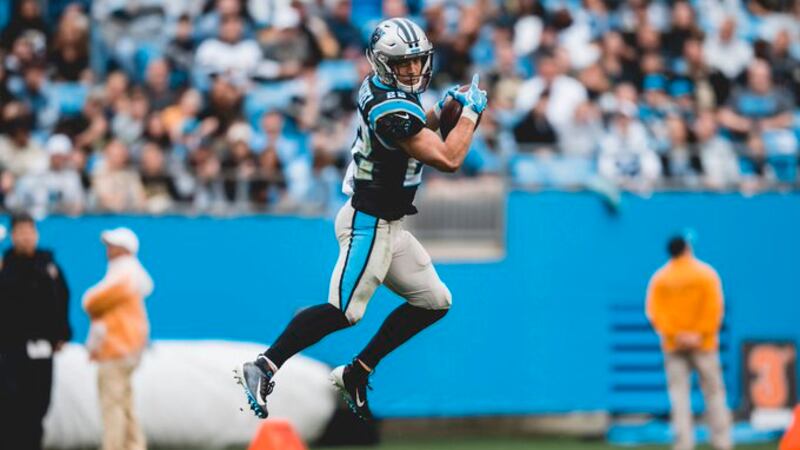 Updated: Oct. 29, 2020 at 12:00 AM EDT
CHARLOTTE, N.C. (WBTV) - Carolina Panthers running back Christian McCaffrey has been designated to return from the reserve/injured list after missing multiple weeks with a high ankle sprain.
According to Panthers.com, McCaffrey first returned to the Bank of America Stadium practice fields Monday, but on Tuesday he was officially designated to return.
The star running back can now begin practicing, and the team now has 21 days to put him back on the active roster.
Team officials say McCaffrey initially showed up to Tuesday's practice in a red, non-contact jersey, but soon changed into a black jersey and helmet during the portion of practice open to the media.
Panthers head coach Matt Rhule spoke on McCaffrey's status and possibility of returning to the field this week.
"I'm hopeful," Rhule said. "I'll have to see how he responds to getting back out there. It won't be a minute too early. We'll be smart."
If this week is too short of a turnaround with the Panthers set to host the Atlanta Falcons on Thursday night, McCaffrey could potentially return to face the Kansas City Chiefs in Week 9.
McCaffrey has been out of action and has spent the last five weeks on injured reserve. The star running back suffered the ankle injury during the Panthers' Week 2 loss at the Tampa Bay Buccaneers.
McCaffrey had 223 yards from scrimmage (156 rushing, 67 receiving) and four rushing touchdowns in his two games this season.
Mike Davis has started in his absence, gaining 517 yards from scrimmage, with two rushing touchdowns and two receiving scores.
Before this year's ankle injury, McCaffrey had never missed a game in his three-plus year career. He signed a four-year, $64 million extension in the offseason and is the highest-paid running back in NFL history.
Copyright 2020 WBTV. All rights reserved.