City of Charlotte working with Equality NC, other cities to craft new nondiscrimination ordinance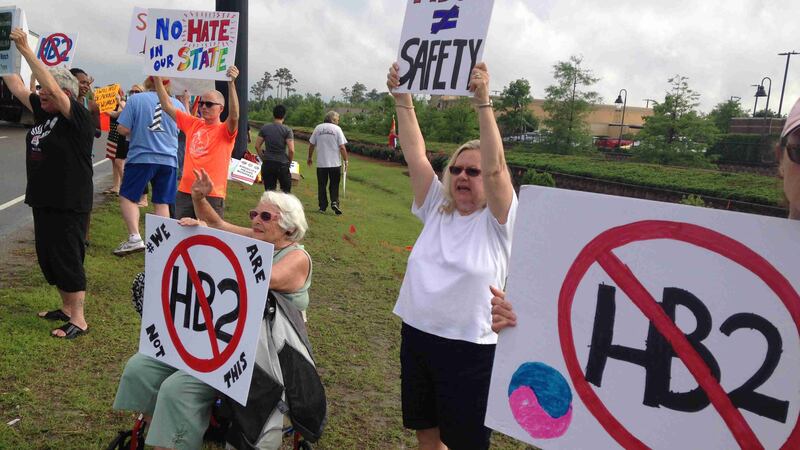 Updated: Oct. 26, 2020 at 11:27 PM EDT
CHARLOTTE, N.C. (WBTV) - The City of Charlotte is working with Equality NC, the North Carolina Metro Mayors Coalition and leaders from cities across the state to draft a new nondiscrimination ordinance.
Discussions about a new ordinance began earlier this month, as a provision of the bill that repealed HB2 banning such ordinances is set to expire in December of this year.
It was a nondiscrimination ordinance passed by the City of Charlotte in February 2016 that led to the legislature passing HB2 and a year of political fighting.
Documents obtained from the City of Charlotte show the Metro Mayors Coalition hosted a call on Oct. 16 to discuss the creation and implementation of new nondiscrimination ordinances in cities across the state.
Previous: Gov Cooper says he signed repeal of HB2 after bill passed House, Senate
The call, records show, included a slide presentation from Equality NC.
DOCUMENT: Slide presentation from Equality NC.
According to notes from the call, taken by the city attorney in Durham and shared with Charlotte City Attorney Patrick Baker, the goal of passing these nondiscrimination ordinances would be to prompt the North Carolina General Assembly to pass comprehensive nondiscrimination legislation that would cover the entire state.
The notes also say the groups plan to work with the NC State Chamber of Commerce, which is favorable to the initiative and that the groups will conduct polling on the issue after the election.
"All of this is contingent upon the outcome of the elections," the notes say.
The notes outlining the call also make clear organizers are working to broaden the ordinances with no specific reference to bathrooms.
"Need slow and measured approach. Only take action after a new NCGA is seated," the notes taken by the Durham city attorney summarizing the call say.
The notes indicate cities would begin passing a new ordinance in January and February 2021.
The Metro Mayors Coalition have scheduled another call on the topic for November 6.
A spokesman for Charlotte Mayor Vi Lyles and City Attorney Patrick Baker said he would check with both regarding a comment but had not provided any further comment as of Monday evening.
Beau Mills, who heads the Metro Mayors Coalition, provided the following statement in response to this story:
"The state legislation that addresses HB2 ends a moratorium on local action. Recently, a small group of mayors discussed this important topic. These mayors want to work collaboratively on this issue like they do on so many other issues — such as transportation and economic development. This conversation was a first step in an effort to work with with each other, legislative leadership, advocacy groups, and business leaders in a thoughtful and open way."
A spokesman for Equality NC did not immediately respond to a request for comment.
Copyright 2020 WBTV. All rights reserved.