RNC announces health protocols for official convention business in Charlotte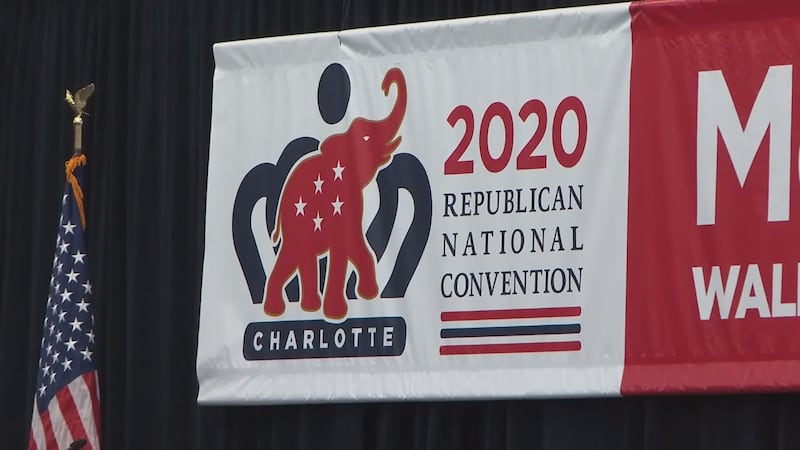 Updated: Aug. 5, 2020 at 8:08 PM EDT
CHARLOTTE, N.C. (WBTV) - Officials have announced the health protocols for the official business of the 2020 Republican National Convention taking place in Charlotte amid the coronavirus pandemic.
The Committee on Arrangements (COA) for the 2020 RNC announced it submitted a comprehensive health and safety plan to North Carolina state officials.
Six delegates from each state and territory are planning to attend, for a total of 336 delegates. These delegates, as well as vendors and staff, will follow this health and safety plan.
The plan was written with the state's current restrictions and protocols in mind and would be in effect for the RNC Business meeting Aug. 21-23 and the convention business taking place on Aug. 24.
Officials say the plan is based on evolving scientific evidence and local capabilities, as well as guidance issued by the Presidential Coronavirus Task Force, the Centers for Disease Control and Prevention (CDC) and the National Institute for Allergies and Infectious Diseases (NIAID).
"Our top priority continues to be the safety and health of all attendees, participating vendors, staff and the Charlotte community," said Max Everett, Vice President and CIO. "We were extremely thorough in our planning and grateful for our local partners, including Atrium Health, Novant Health, city and county officials and other stakeholders who are working to ensure that the official convention business conducted here in the Queen City is a healthy and safe experience for all."
Key components of the plan include:
Robust training of all delegates and integrated communications planning to ensure all delegates are educated, informed and ready to participate

Pre-travel COVID-19 testing of all participants prior to arrival in Charlotte

Daily symptom tracking and temperature checks for all delegates

Social distancing in all venues

Masks will be worn and PPE will be provided to participants in accordance with local and state regulations

On-site health professionals for medical response

Integration with local health systems, delivering on-site and telemedicine consults in addition to testing capabilities as needed
North Carolina Health Secretary Dr. Mandy Cohen says that overall her department believes the RNC health and safety plan is a good plan.
Dr. Cohen says it reduces risk, but reminded that any gathering of people poses a potential for risk.
Governor Roy Cooper says officials allowed hotels to stay open and they remain committed to holding a safe convention.
The official business of the 2020 Republican National Convention, including the formal nomination of President Donald J. Trump, will be held in Charlotte, North Carolina on Aug. 24, 2020.
Copyright 2020 WBTV. All rights reserved.