CMPD: Five arrested after protesters block traffic, fire truck on I-277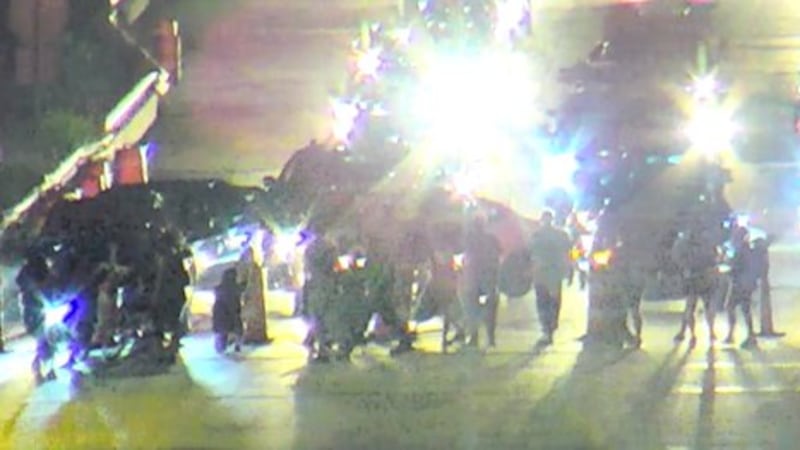 Updated: Jun. 11, 2020 at 9:11 AM EDT
CHARLOTTE, N.C. (WBTV) - Five people were arrested in Charlotte Wednesday night after a group of protesters illegally walked onto I-277 and blocked traffic, Charlotte-Mecklenburg police say. At least 70 vehicles, including a Charlotte Fire Department Engine, were blocked.
Wednesday marked the 13th day of protests in Charlotte over the death of George Floyd and others in a stance against police brutality and racism.
Just before 11:30 p.m., police say a group of 20 protesters walked onto I-277 at the 4th Street ramp and moved construction barrels and cones from the roadside, placing them across the road to block traffic. Police called the actions by the protesters "dangerous and illegal."
Police say the protesters fled when officers arrived and the road was cleared within 6 minutes. A motorist jumped in to help police clear the road and traffic was flowing freely by 11:30 p.m.
Police arrested the following five people in connection to the incident and charged them with impeding traffic: 33-year-old Katherine Jean Wolff, 24-year-old Michael Scott Howard, 27-year-old Brandy Nicole Webb, 40-year-old Kristie Puckett Williams, and 28-year-old Gloria Merriweather.
"Protests remained lawful throughout the day, no officers were injured, no dispersal orders were issued and there was no use of Riot Control Agents (RCA)," CMPD said. "The CMPD will continue its commitment of keeping the peace while working with protesters and safeguarding their First Amendment Rights."
Earlier in the evening, around 5 p.m., a group of around 150 people gathered at Marshall Park for a food drive.
The event continued into a march through uptown, where the group delivered food to two separate locations and then joined a candlelight vigil around 8 p.m. at Romare Bearden Park.
Copyright 2020 WBTV. All rights reserved.