CMPD: 11 arrested, weapons seized and an American flag burned during Wednesday protests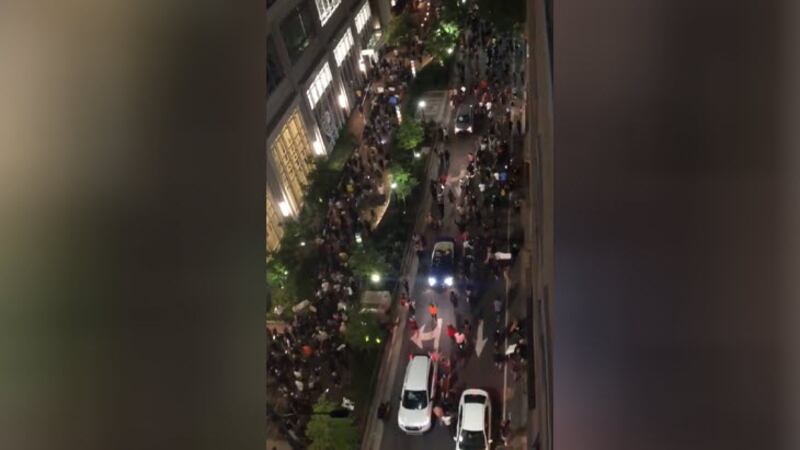 Updated: Jun. 4, 2020 at 10:59 AM EDT
CHARLOTTE, N.C. (WBTV) - Charlotte-Mecklenburg Police say 11 people were arrested, weapons were seized, items were thrown at officers and an American flag was burned Wednesday night during the sixth day of protests against police brutality uptown.
Wednesday's demonstrations began around 4 p.m. when around 300 protesters gathered at Myers Park High School for a march. CMPD said that march "remained lawful throughout its duration, and concluded a few hours later."
Just after 6:30 p.m., CMPD's Chief of Police Kerr Putney joined a group of protesters the Charlotte-Mecklenburg Government Center to speak with them.
"The first few hours of the demonstration remained lawful and involved cooperation between the police and protesters," police said, adding that, "At one point, a protester found a firework and gave it to police in efforts to keep the protest lawful."
Around 11 p.m., CMPD says, the demonstrations became less peaceful.
"A few protesters began to throw cones into the street, and fireworks were thrown into the crowd," police said.
Officers then stopped protesters from walking onto the interstate.
"Protesters then began throwing bottles, rocks and fireworks at officers," the department said Thursday morning.
"Within a span of around 10 minutes, there were at least five separate instances of these objects being thrown at officers, so Riot Control Agents (RCA) were deployed to protect the public, reduce the harm to officers and preserve property. The use of the RCA was effective and dispersed those who were assaulting officers."
Police say a few protesters pulled an American flag from a flag pole and burned it, a protester tried to open a stack of bricks with a knife, and a few others were seen with baseball bats.
Multiple vehicles joined and followed the protesters, police said, with several droving recklessly, "endangering those demonstrating." Five people were arrested for reckless driving.
A total of 11 protesters were arrested during Wednesday night's demonstrations. Police say four of those arrested had weapons. Officers seized two firearms, a knife and a bat.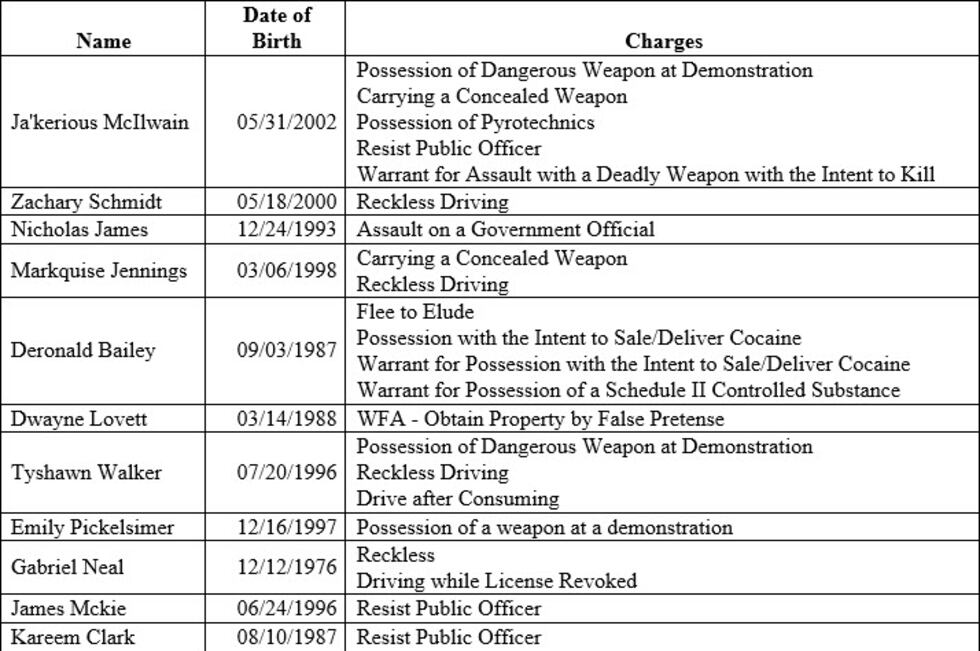 Wednesday night's protests came after a full day of discussions between community members, Charlotte City Council, and CMPD Police Chief Kerr Putney.
The North Carolina State Bureau of Investigation will conduct an independent review of CMPD procedures after 50 complaints were filed against the department related to incidents during Tuesday night protests in Charlotte.
Wednesday evening, Charlotte Mayor Vi Lyles invited the public to speak about police relations as community members are protesting against police brutality and racial injustice.
The public was invited to the front of the government center where Mayor Lyles, members of Charlotte City Council and Chief Putney addressed questions from the community.
Hundreds of people showed up, demanding answers after chemical agents were used during Tuesday night protests.
Putney promised not to use chemical agents on protesters if there is no violence.
"Are you going to gas us tonight when we march?" the crowd asked.
"We will absolutely not if there is no violence," Putney responded.
The crowd then erupted saying there wasn't any violence Tuesday night, but CMPD said in a press release that things were being thrown at officers, including rocks.
"I said the specific order at that time is being investigated right now," Putney said as he was questioned about which officer specifically made the call to use tear gas in the incident on 4th street Tuesday.
Putney said Wednesday he will petition to release the body cam video of Tuesday night's incident. He says it will "show the full picture." The department tweeted Wednesday night saying Putney would "immediately" petition the courts for the release of videos associated with Tuesday night's 4th Street incident at the conclusion of the SBI's review.
Copyright 2020 WBTV. All rights reserved.