NC inmates are making sanitizer, masks at prison plants to protect themselves, staff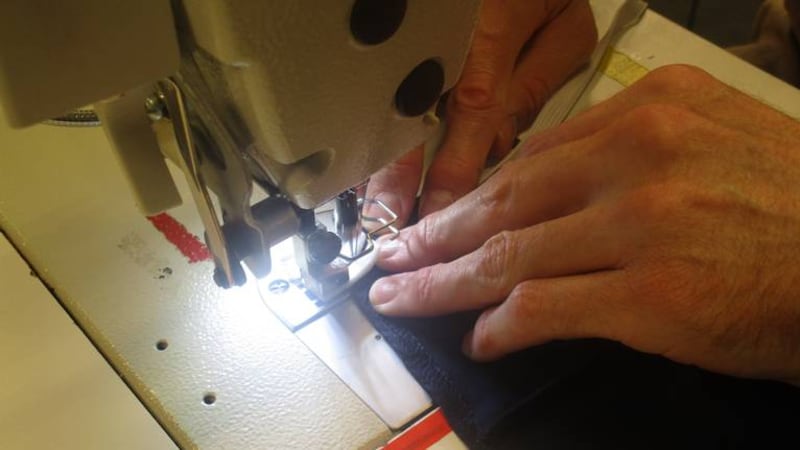 Published: Apr. 4, 2020 at 5:46 PM EDT
CHARLOTTE, N.C. (Ames Alexander / Charlotte Observer) - Like many places where the coronavirus poses a deadly threat, North Carolina's prisons have an urgent need for face masks, disinfectant and other supplies that can help stem the virus' spread.
The need is so acute, in fact, that the prisons are turning to unconventional manufacturers: plants staffed by the inmates themselves.
Each week, at Corrections Enterprises plants inside various prisons, inmates are turning out 24,000 gallons of disinfectant, 500 hospital gowns, 6,000 surgical-style face masks and other equipment that state officials say will help protect both inmates and staff.
But it's unclear whether the prisons will have enough personal protective equipment — often referred to as PPE — to meet the surge that is expected in the weeks ahead.
The coronavirus can spread rapidly in prisons, experts say, because inmates live in close quarters — and because it is virtually impossible for them to stay six feet away from one another. There are about 35,000 inmates and roughly 16,000 employees in the state prison system.
In the state prisons, four inmates and five staff members have tested positive so far. At the Butner Federal Correctional Institution, north of Durham, 10 inmates and three staff members have been diagnosed.
Emails obtained by the Charlotte Observer show that prison officials have been highly concerned about running out of protective equipment. In a March 19 email to seven other N.C. Department of Public Safety officials, a department inventory associate wrote:
"The COVID-19 crisis has captured our attention to such an extreme that PPE supply inventories have reached critical levels. In order to maintain our stock levels it is of extreme importance that we understand the proper use of each item so as to conserve our stocks wisely without causing a detriment to our infection control guidelines and protocol."
Chad Lovett, the CEO of the hospital on the grounds of Raleigh's Central Prison, wrote an email to the hospital staff the same day, cautioning about the inappropriate use of PPE.
"All PPE equipment is on national shortage, inappropriate utilization will only cause us to run short when we really need them," Lovett wrote. "Please use the PPE appropriately and don't over utilize just because you may be fearful. Your actions will cause harm to another later, when we need them."
'PLAYING CORONA ROULETTE'
One employee at the Central Prison hospital told the Observer that he recently saw a manager yelling at an employee for wearing a face mask.
The employee said he's worried about what may happen to him and his colleagues if they are not allowed to wear protective equipment.
"It's kind of like they're playing corona roulette with our lives," said the employee, who asked not to be identified because he fears retaliation.
In an email replying to the Observer about personal protective equipment for employees, Lovett — the Central Prison hospital CEO — responded that he was "very busy and do not have available time to assist you."
Bull, the prison spokesman, said the medical-grade masks that the prisons have on hand "need to be used in a specific manner — and for specific staff — in order to ensure we have an adequate supply."
In recent weeks, the state prisons have received large orders of protective equipment and placed more orders, Bull said.
Bull said Friday that he can't quantify precisely how much equipment the prisons have on hand, but added: "We believe we have sufficient quantities for the near future."
Much will depend on how quickly the virus spreads — and whether the prisons can continue to order large quantities of needed supplies .
The Washington Post recently reported that the federal government's emergency stockpile of masks, gloves and other medical supplies is nearly exhausted.
ABC News, meanwhile, has reported that federal prison officials have grown increasingly alarmed about a shortage. Two officials at the Butner prison told the network that the federal Bureau of Prisons has not relaxed restrictions on which contractors can supply protective equipment to the hospital on the prison grounds.
The Centers for Disease Control and Prevention has also issued a warning, telling prisons that they need to "make contingency plans for the likely event of PPE shortages during the COVID-19 pandemic."
Copyright 2020 WBTV. All rights reserved.