Charlotte-area teen is sewing face masks for North Carolina hospitals short on N95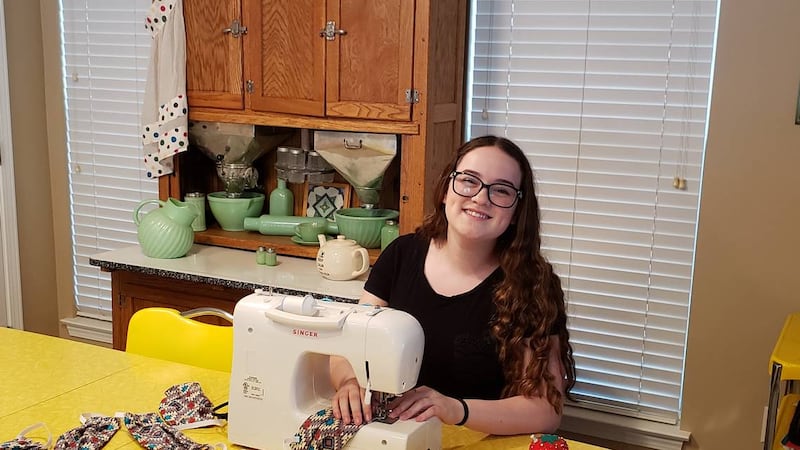 Published: Mar. 28, 2020 at 11:50 AM EDT
CHARLOTTE, N.C. (Charlotte Observer) - Marina Nichols doesn't yet have her driver's license nor her own car, but she's combating the coronavirus pandemic armed with another piece of machinery: Her aunt's hand-me-down sewing machine, which she's using to craft homemade face masks for North Carolina hospitals that run out of high-grade N95 respirator masks.
"Everyone's talking about (the coronavirus)," Nichols said. "It's all you see online these days about what's happening and here's what you can do to help."
Nichols, 15, said she came across a post on the Nextdoor social networking app last week that called for "Seamstresses, material, and elastic to make masks." The self-taught seamstress, who honed her skills by sewing costumes for student theater productions, responded to her community's call for help.
"I was kind of feeling like I wasn't really doing anything because there are some things that are obviously hard for a teenager to do when you can't drive, or things like that," Nichols said. "But I saw a need that had to be met and I felt like I could adequately help fulfill that need."
The Huntersville teen is among dozens of individuals who responded to the post by Huntersville resident Kristen Nardone. Nardone said in the post that she was coordinating with a friend who works as a nurse at Atrium Health to deliver the masks to the proper destinations. (An instructional video can be found here.)
Nardone said she had spoken with about 75 people who want to contribute to the cause, but currently has a lot more material than skilled labor.
"I need more sewers that I could give that stuff to and have them making (the masks)," Nardone said in an email.
Homemade face masks are listed as a "last resort" option by the CDC, behind face shields and ventilated headboards. However, as hospitals across the nation grapple with shortages of the personal protective equipment (PPE) for treating COVID-19, especially in heavily populated areas, alternative solutions are becoming more common.
Hospitals in Los Angeles County and New York City, for example, have resorted to reusing N95 face masks. Friday, the United States Conference of Mayors published a survey of 213 cities, including Charlotte, Durham, Fayetteville, Raleigh and Winston-Salem. More than 90 percent of the cities said they do not have an adequate supply of face masks for police officers, firefighters and emergency workers, according to the survey.
"It is abundantly clear that the shortage of essential items such as face masks, test kits, personal protective equipment, ventilators and other items needed by health and safety personnel has reached crisis proportions in cities across the country," CEO of the conference Tom Cochran said in a letter along with the survey's findings.
"The result is that the safety of city residents and the health workers and first responders protecting them is being seriously compromised," the letter continued.
Nichols is part of a network of seamstresses across the country who are communicating digitally to crowdsource PPE for health care workers. She said she is using guidelines from Deaconess Hospital in Evansville, Ind., to create her masks. So far, she has made 10 masks, which she will coordinate pickup for this weekend before starting her next batch.
"It was a fairly straightforward pattern," Nichols said. "The only complicated part is that it's double-layered, but most of it is just straight stitching and corner stitching, so it's fairly simple."
Other family members have been recruited into Nichols' project, including her mother, Kim, and 12-year-old twin sisters, Tessa and Savannah. The family crafts together at the kitchen table in an assembly-line fashion between the girls' online classes at Lincoln Charter School, which has implemented eLearning since last Thursday.
"It was really them looking for ways to help out and mobilize and do what they could," Lincoln Charter School administrator Jonathan Bryant said. "They're really just tender-hearted kids."
While not all hospitals in North Carolina are accepting homemade masks (Duke Health, for example, said it is not currently taking hand-sewn gear), others, such as Novant Health and Atrium Health, are requesting donations.
"Novant Health will accept critical medical supplies such as masks, eye shields and disinfectants," the hospital network said in an emailed statement. "Any vendor or supplier interested in donating supplies should email donatesupplies@NovantHealth.org, where they will be contacted about next steps."
Parties interested in contributing materials or masks should contact their local hospitals directly since needs differ across facilities. They can also use reputable channels such as Deaconess to coordinate donation efforts.
The Nichols family said it will continue making masks in the coming months with the hope that more individuals get involved. Kim said that she recently learned of another family at Lincoln Charter School that owns a fabric business that she will reach out to about coordinating a donation.
"As much as we can get the school community involved would be great," Kim said. "Even if they can't sew. They can cut fabric and cut elastic and drop it off."
"Marina can do the sewing."