Visual impairment doesn't stop 18-year-old Rowan-Cabarrus Community College student from exceeding expectations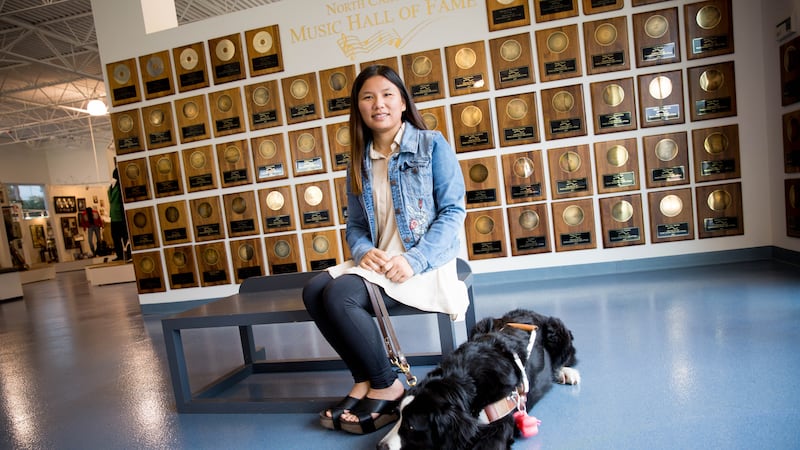 Published: Jan. 15, 2020 at 4:52 PM EST
CABARRUS COUNTY, N.C. (WBTV) - Cabarrus Early College of Technology student Hope Bovard has been named the 2019 William D. Weston Outstanding Student of the Year by the North Carolina Work-Based Learning Association.
Bovard, who attends Early College at Rowan-Cabarrus Community College's Cabarrus Business and Technology Center campus, interned this past summer at the North Carolina Music Hall of Fame, where she worked as part of a team raising funds and preparing for the organization's annual induction ceremony. She reached out to more than 100 potential donors to secure sponsorships and create new business relationships.
Bovard, who is blind, also provided background research and Braille assistance for the exhibit of one of the Hall of Fame inductees, blind musician Jay Spell.
"I was so happy to be able to do the internship, because I am always looking for ways to contribute and feel useful," Bovard said. "The whole team was amazing to work with, and I learned so much."
The Rowan-Cabarrus Community College Work-Based Learning (WBL) program integrates classroom learning with real-world work experience to give students a chance to perform relevant duties in fields of interest while earning academic credits.
"These internships allow students to explore careers and increase their marketability after graduation," said Tena Pair, Rowan-Cabarrus Work-Based Learning internship developer, who worked to locate the internship and secure accessibility services for Bovard. "Students like Hope can increase their self-confidence and develop skills that build their resume, and some are even hired permanently by the companies where they intern. Hope is a great example of the success that students can achieve in internships, and she is beyond deserving of this honor."
Born in China with a visual impairment, Bovard was adopted by Lisa and Wade Bovard when she was 6 years old. Her vision was blurry and continued to deteriorate, leading her to withdraw from social interaction and worry about her future. After several surgeries failed to correct the problem, she lost her vision completely in 2014.
Now 18, she's regained her confidence with sheer determination not to be "the stereotypical blind person." She's friendly and smiling, always working hard, playing hard and committed to making her mark on the world.
"I didn't have the best life before I was adopted, so from then on I knew that I had to put in the work to achieve what I wanted," she said. "I knew it had to come from me."
After she graduates this spring from the Early College with her Associate in Arts degree, Bovard would like to attend N.C. State University and pursue a career in either psychology or law. "I want to feel like I'm making a difference for other people," Bovard said.
For Bovard, staying busy doesn't stop with school and work. With her guide dog and constant companion, Uashat, by her side, she involves herself in activities that would challenge almost anyone, including a recent 28-mile hike to raise money for the Make-A-Wish Foundation. She has participated in indoor and outdoor rock climbing, as well as competitive equestrian vaulting, which, in layman's terms, is performing gymnastics and dance on horseback.
Bovard also has tutored young children with visual impairments, teaching them to read and write Braille, and has volunteered with the Team FarSight Foundation, the charitable mission of blind professional long-distance hiker Trevor Thomas. She has served as a camp counselor with SEE Adventure Camp, as well as given presentations for MIRA USA, a nonprofit that provides guide dogs to children and teens as part of their informational and fundraising programs.
"People say, 'Oh, you've done such a great job as a parent, but it's all her,'" said Lisa Bovard. "We learned quickly that she has a mind of her own, and we were going to parent the way she wanted to be parented. She is just an exceptionally determined person."
As the state winner of the Weston Award, Bovard will receive a plaque and cash award.
"Hope is an inspiration, and we are extremely proud of her accomplishments," said Dr. Carol S. Spalding, president of Rowan-Cabarrus Community College. "She has a bright future ahead and is a shining example of overcoming challenges to live a full, productive and successful life."
For more information about Rowan-Cabarrus Community College, please visit www.rccc.edu or call 704-216-RCCC (7222).
Copyright 2020 WBTV. All rights reserved.