Baldwin Trial Day 4: Alleged affair, DNA samples at center of murder trial testimony
Published: Nov. 1, 2019 at 12:02 AM EDT
LANCASTER COUNTY, S.C. (WBTV) - Day four of witness testimony in the trial of a former Chester County 911 dispatcher who is accused of killing his wife took a personal turn Thursday as family members and close friends of the couple testified.
Randall Black said he was the Vice President of the Carolina Thunder Christian Motorcycle Club in which the defendant, Jamie Baldwin, was the president. He says Baldwin told him a month before his wife's death that he was sleeping with another woman. That other woman was Teri King, the club's treasurer.
Black says things were good in the club up until about two to three months before Judy's death. He says members of the club started to see "suspicious" activity like money missing from the club's account and noticed Baldwin and King had grown closer.
He then told the jury about a conversation he claims happened at a party in Nov. 2016.
"He said, 'Come over here, I want to ask you something?'" said Black. "And he asked me, he said, 'Would you sleep with Teri?'"
"Who was he referring to?," Solicitor Candice Lively asked Black,
"Teri King. And I asked him, I said, 'You know, there was a time I would have, but I said, no I wouldn't do it now.'" And he told me, 'Well, we're sleeping together,'" Black responded.
Black says it was a month later he and other members decided to leave the club because of what was going on and the missing funds. In cross-examination of Black, the defense claimed Jamie Baldwin asked Black to leave the club because of an affair Black and his wife were having with another woman to which Black denied.
Other witnesses testified that the Baldwins marriage appeared rocky in the two to three months leading up to Judy's death.
Randall Black's wife, and close friend of Judy Baldwin Kay Black testified that the weekend before Judy's death, they had been at a Christmas party for the motorcycle club.
Kay testified that Judy was crying and upset at the party.
"Teri was outside the door smoking, Jamie was sitting in a chair, and I glanced up at him and he was throwing mouth kisses at her and she was laughing at the door," Kay said.
She testified that from that night until the next morning, she texted and spoke with Judy several times because she was "hysterical."
In addition to new revelations about the alleged relationship between King and Baldwin, Black also testified that she cleaned homes with the Baldwins. In that testimony, she said that Judy Baldwin wouldn't climb the step-ladder they would take to homes because, "she had something happen when she was younger," and "she had said her legs were real weak."
She said because of that, she didn't think Judy would be using the ladder to decorate the tree. Jamie Baldwin has told investigators that Judy fell off the ladder while decorating the tree.
Late Thursday afternoon, the woman at the center of the affair allegations took the stand. In questioning, she testified she did not have a sexual relationship with Baldwin.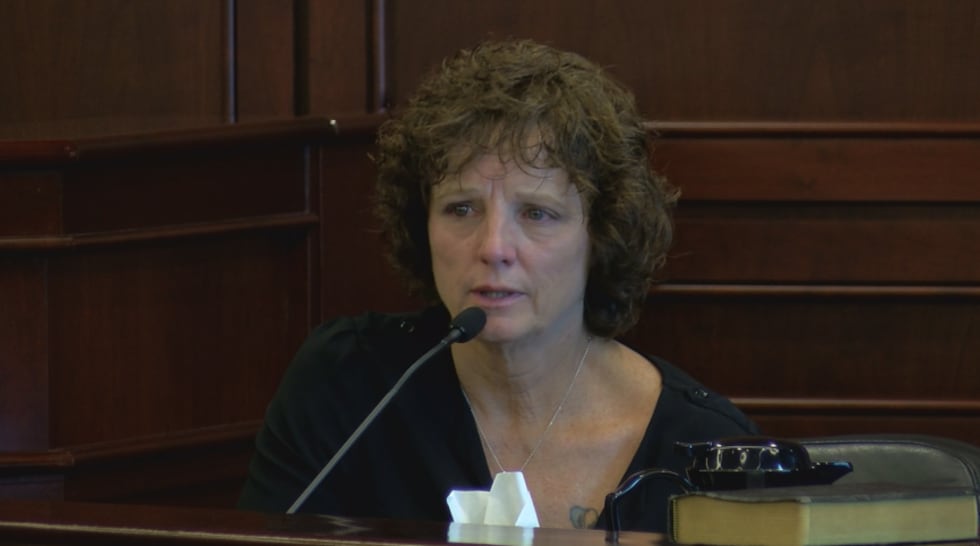 King did say at one time she loved Baldwin or the quote "man she thought he was."
She also told the jury Baldwin moved in with her a month and a half after Judy's death. She said they stayed in separate rooms.
In questioning, King said the night of the alleged accident, she was supposed to see the Baldwins to help load up Christmas presents for a mission trip. She said she received text messages that were spread out over time starting around 6:30 p.m. from Jamie Baldwin about Judy's alleged fall.
She said she heard from Baldwin about 30 minutes later that he was taken Judy to the hospital for stitches. She said some time later, Baldwin texted they had been in an accident and were at the hospital.
"I said, 'Do you need me to come?'" said King. "He said, 'Yes.'"
King said she was the first person there and didn't know Judy Baldwin had already passed away before getting to the hospital. She then testified before Baldwin was ever released from the hospital, she was already at the Baldwin house.
"Okay, well let's back up," said Deputy Solicitor Candice Lively. "How did you get to the house?"
"Chris [Reynolds] had said to , and I don't know who all was standing there, but maybe me and Jessica [Jamie Baldwin's daughter] and Justin who is Jamie's son, and said then, 'Someone is going to need to clean up,'" King said.
Reynolds is the former detective with the Chester County Sheriff's Office who has previously testified the office did not investigate the Baldwin home as a crime scene. King said Reynolds told them to clean up the blood at the home.
The blood found at the Baldwin home, including high up on the wall of the Baldwin's living room, became a focus of testimony from a South Carolina Law Enforcement Division DNA analyst Thursday afternoon. She testified those blood stains that were swabbed from the Baldwin home months after Judy died were that of Judy Baldwin.
She also testified her DNA was found on the broken stocking hanger that the state has implied could have been used to cause Judy's injuries. A forensic pathologist has previously testified the hanger was consistent with what could have caused injuries to Judy's head.
The defense countered that testimony by having the analyst confirm that Jamie Baldwin's DNA was not found on anything that was swabbed. The state followed up that questioning by asking the analyst if that would be the case if someone was wearing gloves, which she confirmed.
Day five of testimony will continue Friday morning.
Copyright 2019 WBTV. All rights reserved.