'It's like you have a new lease on life.' Woman battling 20-year depression finds relief from little-known treatment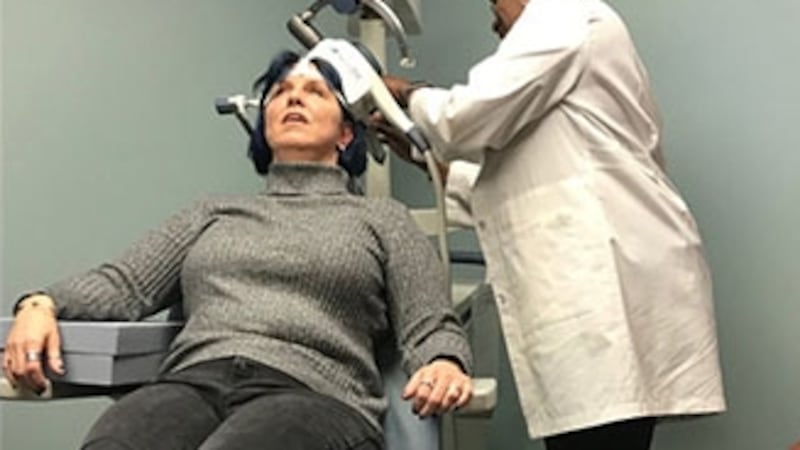 Updated: Feb. 21, 2019 at 7:32 PM EST
CHARLOTTE, NC (WBTV) - Millions battle depression every day in the United States. Did you know 1 out of 2 Americans report suffering from the mental health disease?
Many turn to anti-depressants to help them manage it and find relief. But for some, medication doesn't help – or just isn't enough.
That's where a little known treatment called transcranial magnetic stimulation (TMS) comes in. It helps patients who have medication-resistant depression, meaning medication isn't effective enough or the side effects are so intolerable they can't take the prescribed drug.
Novant Health allowed WBTV to have access to a patient receiving the treatment through its TMS program. It works by using a magnet - much like an MRI - that pulses to create an electrical field in the area of the brain responsible for depression. It's non-invasive, has no side effects and involves no sedation.
The electromagnetic pulses work to essentially reboot the cells in that area.
"TMS actually excites those cells," said Dr. Darlene Ifill-Taylor, a psychiatrist at Novant and head of the program. "So long after TMS -- the treatment is even received - those tracts are still excited and sort of have learned a new way of operating with one another. It actually is teaching those pathways to operate in a different way."
Dr. Ifill-Taylor also said the treatment has been life-changing for her patients. "I have literally had patients say, 'you have saved my life'," she said. "And so it's very, very rewarding -- I love it."
Cecelia Ewing is one of those patients. She's has been struggling with depression since college and says receiving the transcranial magnetic stimulation treatment has changed her life.
"I've had depression for over 20 years and it's like you have a new lease on life," she said. "This actually is the real deal. It makes a big difference"
A difference that not one of the dozen medications she's taken over the past two decades has been able to make. "Some people call it like the medication merry-go-round," Ewing said. "So it's always like that, 'oh well maybe this one will work'."
But thanks to TMS - she's finally off that merry-go-round.
"Depression can kind of feel like this dark pit, kind of a hole you're in," she explained. "And what TMS does is it gives you a lift - like somebody giving you a leg up so you can at least grab the wall. And, then you can climb out on your own. It gives you that ability to help yourself. It's like you've sorted rebooted that part of your brain that kind of gone dormant." In fact, Cecelia noticed a difference immediately -- but was still reluctant to believe at first. She remembered wondering, "am I imagining this? Is it a placebo effect? Is it you know -- like me just wanting it's so bad?"
But it wasn't her imagination or a placebo who told WBTV, "by the end of the first week, I was essentially in remission."
By the end of the treatment period – four to six weeks of the 18 minute treatment five days a week – she had a startling epiphany. "Like I'm having to relate to the world in a completely different way than I have for 20 years," she recalled. "And so you're having to kind of re-learn who you are in a way. Like who am I without depression?" It's a question she's looking forward to answering, particularly when it comes to her family.
"To know that I can be there for my mom if she needs me," she said with pride. "I can be there for my wife if she needs me. It's made a big difference in our relationship and just our lives generally in knowing that I don't always feel like a burden now. I don't feel like I'm the one that's always an issue."
Her success with TMS also led her to share her story. "I want to give people hope that there is something out there beside the medication merry go round that is -- that works well with some people," she said. "This gives you that hope that it can be something different that you can do that can be more permanent and that you always kind of have that help with you."
For more information on TMS, call Novant Health at 704-384-1246 and ask for John Winn.
Copyright 2019 WBTV. All rights reserved.