More concierge practices point to growing trend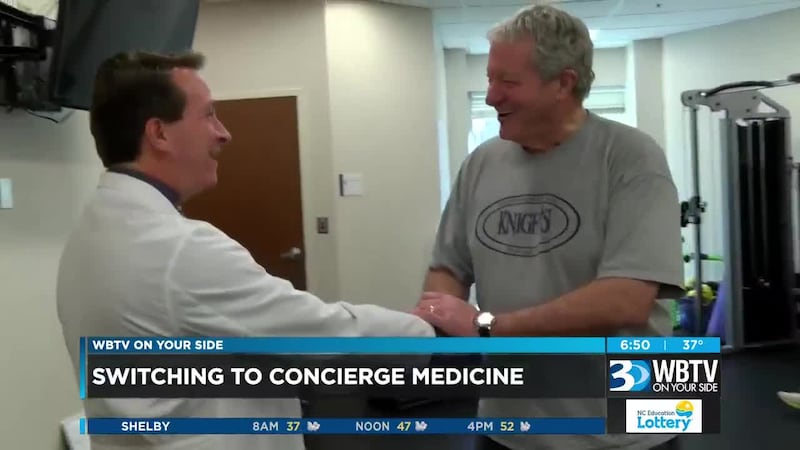 Published: Feb. 11, 2019 at 7:23 AM EST
CHARLOTTE, NC (WBTV) - Healthcare is so expensive for most of us. Between what is taken from your paycheck every two weeks, to the co-pays and deductibles, it is hard to believe anyone would want to pay MORE to see the doctor.
However, some people are doing just that because they say it offers them more attention from their physician.
We're also seeing doctors ditching the traditional medical office for the concierge model. That includes Dr. Martin Cutrone, a primary care physician and Director of Executive Health at Novant Health Hallmark Care which is a concierge practice in SouthPark.
"I was overworked and tired and dissatisfied with how I was practicing. When you're seeing 25 patients every day and the clock is ticking in the background, you're always thinking you have 12 minutes to get the visit done and three more to do the computer work before you are on to the next patient," Dr. Cutrone told WBTV.
He moved to a concierge practice 18 months ago and some of his patients followed them there.
"I have had some patients who have had to stretch their budget some in order to afford to come here but in the end I know they think it is worth it," he said.
To explain, a concierge practice still accepts health insurance like a traditional doctor's office would but also charges a monthly or annual fee to patients. At Hallmark it is $2,400 each year. That affords the staff the luxury of keeping the practice small and allowing 30 minutes instead of 15 for regular patient visits. It is easier to get an appointment last minute. This practice also has a dietician and nutritionist on staff. Patients like Wayne Houston can also work in a quick workout with the practice's personal trainer.
"What you have here is they are able to give you the time you need when you need it and you feel like you're a part of it because they know you," Houston said.
Hallmark started five years ago with no patients and now they have 450. Forty percent of that growth has come in the last 18 months. The North Carolina Medical Society doesn't track specifics but says it has also anecdotally seen growth in the field across the state.
"If you're on a fixed income or a limited income, the fee is a number to consider and that holds a lot of patients back," Cutrone said.
However, he has hope elements of the idea behind concierge medicine trickles down.
"This type of a model could push the rest of the system. One hopes some of the things we do here will translate to other models in the system that might fit a patient's income better," Cutrone said.
Copyright 2019 WBTV. All rights reserved.