WBTV's Steve Crump opens up about his battle with cancer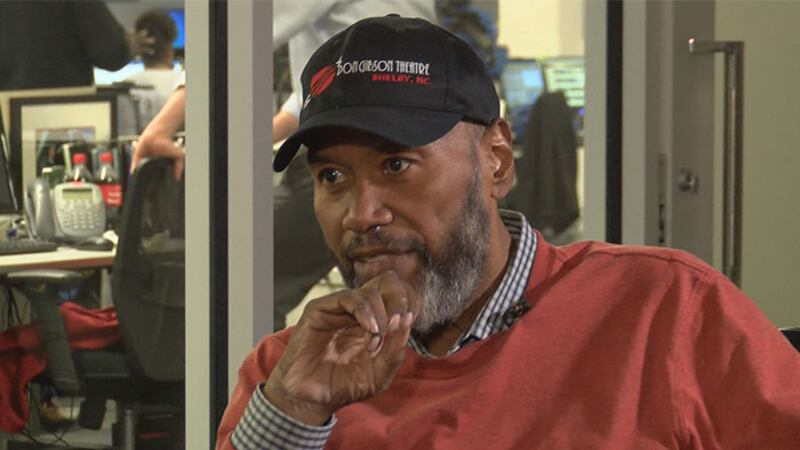 Published: Dec. 12, 2018 at 11:27 PM EST
CHARLOTTE, NC (WBTV) - Reporter Steve Crump made a surprise visit to the WBTV studios Wednesday afternoon to say hello after a six-month leave of absence - and to say farewell to longtime co-workers Paul Cameron and Delano Little as they prepare to retire this week.
Crump has been out of the office since June facing a medical challenge. As he entered the room during a WBTV staff luncheon, he was met with a standing ovation, thunderous applause, and a lot of hugs.
"I don't know when I've been so touched in my life," Crump said of his welcome. "What I feel in my heart, what I felt in my heart at that moment - it's indescribable and I've never had an experience like it."
During his return on Wednesday, the beloved reporter made time to sit down with Jamie Boll and discuss his health, his family, and his goal of returning to the studio.
When Crump first sat down with Boll back in August to talk about his leave of absence, he wasn't quite ready to go public with all he is facing. But now he says he is, including his gratitude to everyone at home.
PREVIOUS: WBTV's Steve Crump sits down to talk about his leave of absence
"Thank you for the prayers... I need more," Crump said of the community. "Thank you for the cards. Thank you for encouraging me. Thank you for telling me not to give up."
For the first time, Crump is saying publicly that he has been battling cancer. A surgical procedure to remove the cancer earlier led to a serious MRSA infection. MRSA is a bacterium that causes infections in parts of the body that is tough to treat because it's resistant to some commonly-used antibiotics.
For a time, Crump was on dialysis, breathing through a ventilator and using feeding tubes.
"We weren't exactly sure, but we're fighting cancer," Crump said. "My condition is workable, and the reality is I'm just hoping there's an opportunity to come back and do what I've always done here."
Crump's mother died from cancer 35 years ago, so it's a subject that's always top of mind. He said every day is a learning experience.
He noted that the support of his wife, Kathy, and the "mercy" that she shows him has helped him through this fight.
"Kathy has shown me mercy on a daily basis, if not on an hourly basis."
For nearly 40 years Crump has been telling you stories from around the world and into every corner of the Carolinas, covering both the big picture and small.
He started as a political science major and always had an interest in politics. That, along with his "gift of gab," translated to great success in the news industry.
He's taught us about history and the Civil Rights Movement, often giving voice to the voiceless. The awards he's accumulated for his work could fill a room.
While he's been away, he's still piling up more journalism awards. He and photojournalist Kevin Marlow won an award from the Radio Television Digital News Association of the Carolinas.
The same documentary, which remembers the Orangeburg Massacre, is also nominated for an Emmy Award.
For now, Crump asks his supporters throughout the community to keep praying for him as he prepares to return to work.
"God kept me here for a reason," Crump said, "he's not finished with me yet."
Copyright 2018 WBTV. All rights reserved.