Ron Sanchez era begins tonight for the Charlotte 49ers
The rebuild starts for Charlotte after going 6-23 last season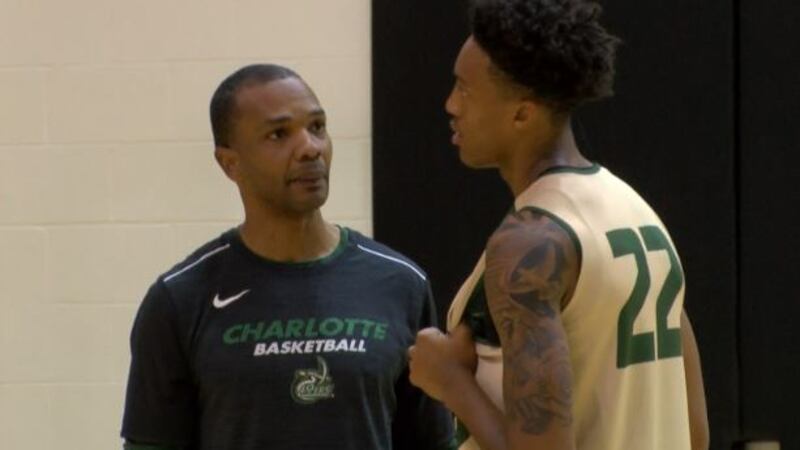 Updated: Nov. 6, 2018 at 4:44 PM EST
CHARLOTTE, NC (WBTV) - The Ron Sanchez era begins tonight when the Charlotte 49ers host Chattanooga at 7 at Halton Arena.
"I'm really excited," said coach Sanchez. "It's a nervous excitement, but at the same time, it's a peace that comes with it. There's no better place for me right now. When I think about that, I'm genuinely grateful and excited about this opportunity."
The first time head coach takes over a program that went 6-23 last season, didn't qualify for the Conference USA basketball tournament, and has not been to the NCAA tournament since 2005.
But rebuilding is nothing new for Sanchez as he has spent the last 9 years at Virginia as an assistant coach with head coach Tony Bennett rebuilding a struggling program that was at the bottom of the Atlantic Coast Conference when they got there, to climbing to the number one ranking in the nation last season. Before that, Sanchez spent 6 seasons at Washington State along with Bennett.
"He was with us at Washington State when it was at the bottom of the barrel," said Bennett. "He's been a part of having to start over or rebuild and there is no substitution for experience for coaches who have gone through being in spots where you're the have nots."
By the time Bennett and Sanchez left Pullman, WA, the Cougars had gone to back to back NCAA Tournaments in 2007 and 2008 and in 08, the Cougars made it all the way to the Sweet 16.
At Charlotte, he is no longer giving advice as the assistant, he is making the decisions that will directly lead to winning and losing.
"I was great at making suggestions," said Sanchez with a smile on his face. "Making decisions is a lot harder. You realize there are emotional things that come into it. I'm really embracing the opportunity to grow as a coach."
The big question for most of Niner Nation is how long with this rebuild take? The simple answer is as long as it takes.
"You first have to figure out a way to just be competitive and he understands that process," said Bennett. "It can't be short cutted. You have to stay true to it and over time hopefully it results in wins."
Charlotte will be led this season on the court by senior guard Jon Davis who was named to the preseason All-Conference USA team after averaging 17 points and 5 assists per game last season. The only other senior on this team is center Jailan Haslem who averaged 4 points and 4 rebounds last season.
This team will feature a lot of young talent and lots of freshman. That will lead to a lot of mistakes and as the tip off of the season approaches, Sanchez sees the promise of this team but they still have a long way to go.
"Their effort has been really good," said Sanchez. "Our challenge now is to get our effort to match our execution. If we don't play good enough defense, we can't be competitive. We all return to our old habits. I think some of them had some poor defensive habits. My challenge is to focus on the times they do it correctly and to encourage them to repeat that over and over again."
Charlotte's first 4 games are at home before their annual "battle for the Hornets Nest Trophy" with Davidson on November 27th up at Belk Arena.
Copyright 2018 WBTV. All rights reserved.