Gov. Cooper declares State of Emergency in NC ahead of Tropical Storm Florence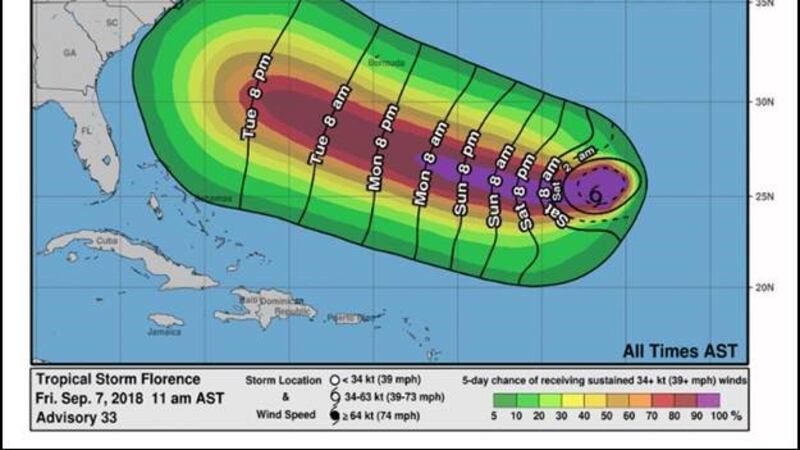 Updated: Sep. 9, 2018 at 12:33 AM EDT
CHARLOTTE, NC (WBTV) - Gov. Roy Cooper has declared a State of Emergency for the State of North Carolina ahead of Tropical Storm Florence.
With the Florence forecast to strengthen as it heads toward the East Coast, Gov. Roy Cooper waived transportation rules to help farmers harvest and transport their crops more quickly.
"While it's still too early to know the storm's path, we know we have to be prepared," Gov. Cooper said. "During harvest, time is of the essence. Action today can avoid losses due to Florence."
To activate the transportation waiver, Gov. Cooper also signed Executive Order No. 51, declaring a State of Emergency.
RELATED: Carolinas prepare for possible Hurricane nearly a week before expected landfall
Friday, Gov. Cooper signed Executive Order No. 52, temporarily waiving the cap on maximum hours of service restrictions for trucks and heavy vehicles traveling in and through North Carolina and size and weight restrictions for trucks carrying crops and livestock.
The executive order will help gather and move crops in and through the state more easily and quickly in response to problems that could be caused by Tropical Storm Florence in North Carolina and along the East Coast.
Earlier Friday, Gov. Cooper said state emergency management officials are working with local and federal counterparts to prepare North Carolina for possible impacts from Florence.
He also urged North Carolinians to take steps to prepare their families.
NC Emergency Management shared the following tips for preparing for a possible tropical storm or hurricane:
Build an emergency kit.

Make a family communications plan.

Know the routes you need to leave your home (evacuation routes). Locate your local emergency shelters.

Closely watch/listen to the weather reports. Listen every hour as a storm nears.

Put fuel in all vehicles and withdraw some cash from the bank. Gas stations and ATMs may be closed after a hurricane.

If authorities ask you to leave, do so quickly.
On Saturday, South Carolina Governor Henry McMaster declared a State of Emergency for South Carolina.
On Twitter, Gov. McMaster urged residents to not wait until the last minute to start preparing for possible heavy rain and wind.
Additional safety tips can be found on the free ReadyNC mobile app or online at readync.org.
Copyright 2018 WBTV. All rights reserved.